Power and Politics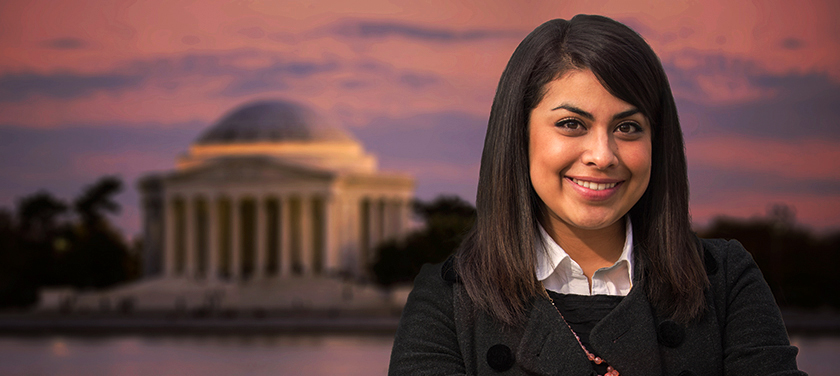 Political power has historically been only accessible to a select few across the globe. The Power & Politics Pathway explores the relationship between political access and power in order to understand this dynamic at a national, international and transnational level. Courses in this Pathway focus on accessibility to political power by different groups in the United States and abroad from different historical moments. This Pathway is designed for students interested in a comparative understanding of political power by studying the philosophical framework of political systems, the social means by which power is accessed, and the implications of such structures. It provides a basis from which to consider research careers in government, regional and international organizations, as well as non-governmental groups seeking to access political power. This Pathway will appeal to those interested in pluricultural approaches to political power and social organization.
Objectives
Students will develop an understanding of politics through political institutions, rules, and processes in an international context.
Students will explore the relevance for politics and access to power through non-institutional aspects of politics, including the roles of class, race, gender, religion, and political beliefs throughout the globe.
Students will critically evaluate the use of different theories and methods of studying politics and power including understanding the role of theory in political analysis and argumentation.
Students will demonstrate proficiency in the use of various tools of analysis, including library research, critical writing ability, computer skills, and data analysis techniques while incorporating interdisciplinary knowledge.
Courses
C.3 Explorations in the Arts and Humanities:
AFAM 320* Black Political Thought (3)
AFAM 324 African-American Literature (3)
ASAM 325 Asian American Film and Video (3)
ASAM 327 Asian-American Literature (3)
CHIC 336 Main Trends in Spanish-American Literature (3)
CHIC 337 Contemporary Chicana/o Literature (3)
CHIC 340* Mexican/Chicano Intellectual Thought (3)
CHIN 315* Introduction to Chinese Civilization (3)
CHIN 325* Contemporary Chinese Culture (3)
ENGL 328 Literature of the American Indians (3)
ENGL 356 Queer Literature and Theory (3)
FREN 315* Origins of Modern France (3)
FREN 325* Contemporary French Civilization (3)
GRMN 315* Introduction to German Civilization (3)
GRMN 325* Current Trends in Culture of German-Speaking Peoples (3)
JAPN 315* Introduction to Japanese Civilization (3)
JAPN 325* Modern Japan (3)
PORT 320* Introduction to Luso-Brazilian Culture and Civilization (3)
PORT 325 Contemporary Brazilian Civilization (3)
POSC 340 Political Philosophy (3)
RLST 350T Major Christian Traditions: Catholicism (3)
RLST 352* History & Development of Modern Christian Thought (3)
RLST 373* Women in Islam (3)
SPAN 315* Introduction to Spanish Civilization (3)
SPAN 316* Introduction to Spanish-American Civilization (3)
VIET 315 Vietnamese Civilization (3)
VIET 325 Introduction to Vietnamese Culture (3)
D.5 Explorations in the Social Sciences:
AFAM 306* American Indian Women (3)
AFAM 310* Black Women in America (3)
AFAM 317* Black Politics (3)
AMST 320 Women in American Society (3)
ASAM 300 Introduction to Asian Pacific American Studies (3)
ASAM 344 Asian Pacific American Identities (3)
ASAM 360 Multiple Heritage Asian Americans and Pacific Islanders (3)
ASAM 362A* Filipina/o American Experience (3)
ASAM 366* The Korean American Experience (3)
ASAM 370 The Chinese American Experience (3)
CHIC 353* Mexico Since 1906 (3)
CRJU 385* Minorities and the Criminal Justice System (3)
History 382 World War II Japanese American Evacuation (3)
POSC 300 Contemporary Issues in California Government and Politics (3)
POSC 309 Introduction to Metropolitan Politics (3)
POSC 315 Politics and Policy Making in America (3)
POSC 330 Politics in Nation-States (3)
POSC 352 American Foreign Policy (3)
RLST 333* Religion and Sexuality (3)
RLST 381 Religion and Politics in the United States (3)
SOCI 356* Social Inequality (3)
SOCI 357* Race and Ethnic Relations (3)
WMST 360* Politics of Sexuality (3)
WMST485 Women and Politics (3)
E. Lifelong Learning and Self-Development:
AMST 320 Women in American Society (3)
ANTH 316* Anthropology of Sex and Gender (3)
ASAM 308* Asian American Women (3)
GEOG 353 Geography of Illegal Drugs (3)
RLST 380* Religion and Violence (3)
WMST 330* Women in Leadership (3)
* Satisfies cultural diversity requirement- category Z