Innovative Leadership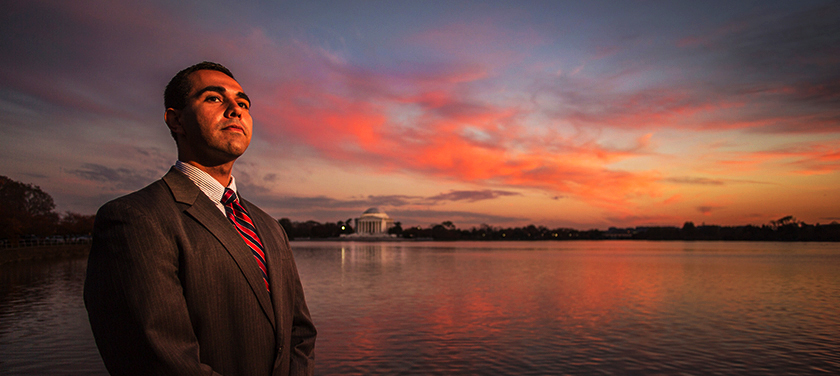 The structure of society has changed throughout time due to the influences of innovative leaders. This Pathway is designed to provide students with the necessary skills and knowledge to be innovative leaders and make an impact on society. This Pathway recognizes that leadership can take many different forms. Students will learn how leadership transcends beyond cultural, historical, and societal boundaries and they will gain a thorough understanding of how influential figures have molded modern society. The interdisciplinary courses chosen for this Pathway interweave and blend elements of how communities, religion, culture and social identities impact society to provide students with a rich and thorough knowledge base that will prepare them for a lifetime of leadership in a multicultural society.
Objectives
Students will be able to define innovation, leadership, and their impact on a multicultural society.
Students will examine how different individuals, groups, and populations have influenced the innovation and leadership in their communities.
Students will be able to explain how leadership relates to their lives and how their actions impact society even at the global level.
Students will be able to recognize and critically analyze the role of religion, culture, and social identities on creating new forms of leadership in modern society.
Courses
B.5 Implications and Explorations in Mathematics and Natural Sciences:
HIST 331 History of Science: Copernicus to the Present (3)
PHIL 303 Introduction to the Philosophy of Science (3))
PHIL 333 Evolution and Creation (3) (3)
C.3 Explorations in the Arts and Humanities:
AFAM 320* Black Political Thought (3)
AFAM 324/ENGL 324 Introduction to African-American Literature (3))
AFAM/RLST 337* American Indian Religions and Philosophy (3))
ASAM 322* Asian Pacific Americans and Religion (3)
CHIC 336 Main Trends in Spanish-American Literature (3)
CHIC 340 340* Mexican/Chicano Intellectual Thought (3)
ENGL 356 Queer Literature and Theory
HIST 377 Women's Image in American Film (3)
LBST 323* Cross-Cultural Humanities (3)
JAPN 390 Japanese Culture and Society: Anime (3)
PORT 320* Introduction to Luso-Brazilian Culture and Civilization (3)
PORT 320* Introduction to Luso-Brazilian Culture and Civilization (3)
RLST 350T Major Christian Traditions (3)
RLST 352* History and Development of Modern Christian Thought (3)
RLST 362* History & Development of Jewish Thought: Medieval & Modern (3)
RLST/CHIC 367* Religion in Latino/a Life (3)
RLST 372* History & Development of Islamic Thought: 1259 to Modern (3)
RLST 373* Women in Islam (3)
RLST 374* Issues in Contemporary Islam (3)
D.5 Explorations in the Social Sciences:
AFAM 306* American Indian Women (3)
AFAM/RLST 325* African-American Religions and Spirituality (3)
ANTH 345* Peoples of the Middle East and North Africa (3)
ANTH 410* Anthropology of Organizations (3)
ASAM 300* Introduction to Asian Pacific American Studies (3)
ASAM 342* Asian Pacific American Families (3)
ASAM 344* Asian Pacific American Families (3)
ASAM 360* Multiple Heritage Asian Americans and Pacific Islanders
ASAM 362* Filipina/o American Experience (3)
ASAM 364* The South Asian American Experience (3)
ASAM 366* The Korean American Experience (3)
ASAM 370* The Chinese American Experience (3)
CHIC 345* History of the Chicano (3)
HIST 320 Modern European History 1789 - Present (3)
HIST 360 Modern Asia: Nationalism and Revolutionary Change (3)
HIST 382/ASAM 382 World War II Japanese American Evacuation (3)
POSC 320/CRJU 320 Introduction to Public Management and Policy (3)
POSC 322/CRJU 322 Leadership for Public Service (3)
POSC 485 Women and Politics (3)
PSYC 351 Social Psychology (3)
RLST 333* Religion and Sexuality (3)
RLST 381 Religion & Politics in the USA (3)
E. Lifelong Learning and Self-Development:
ANTH 332* Women in Cross-Cultural Perspective (3)
ASAM 308* Asian American Women (3)
ENGL 355T Images of Women in Literature (3)
RLST 306* Contemporary Practices of the World's Religions (3)
RLST 380* Religion and Violence (3)
RLST 397 Religion and Science (3)
SOCI 341 Social Interaction (3)
WMST 330* Women in Leadership (3)
* Satisfies cultural diversity requirement- category Z