Working to make a difference in the life of our communities and developing the knowledge, skills, values, and motivation to make that difference. Promoting quality of life in a community through both political and non-political processes.

Justice in terms of the distribution of wealth, resources, opportunities, and privileges within a society.

An understanding of the impact that environmental, social, cultural, political, and economic issues have on the world based on an applicable knowledge of global and cultural perspectives.
The students of the College of Humanities and Social Sciences represent close to 8000 different lives, each one with a unique story about the journey that lead them to Cal State Fullerton and to their academic major our College. To celebrate the diverse stories that our students bring with them and the collection of stories that create the identity of Humanities and Social Science, we will introduce additional "Faces of HSS" throughout the year.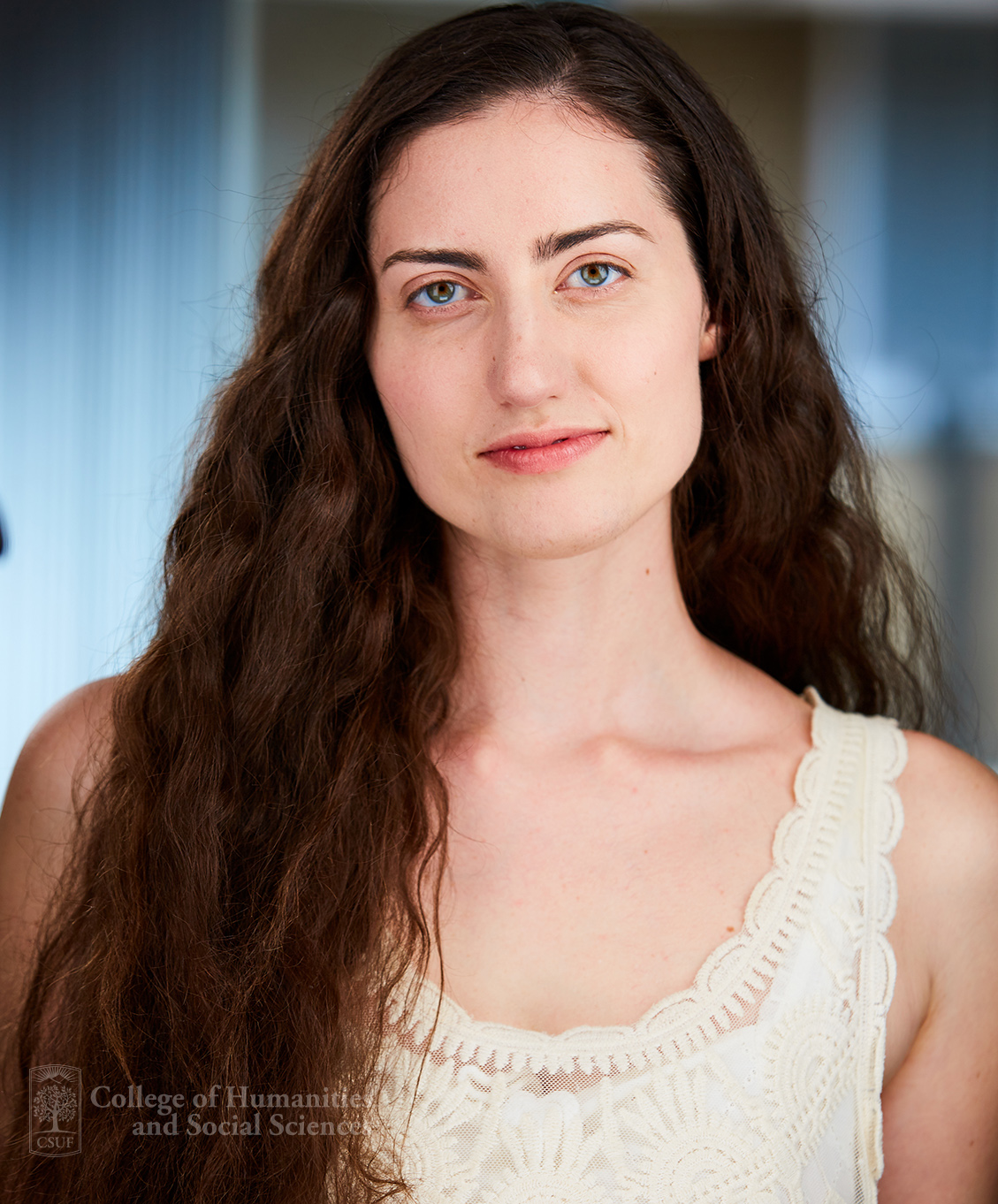 Varvara Gulina
Psychology
Senior
McNair Scholar Studies the Effects of Belittlement on Women
Varvara Gulina is testing whether men's perceptions about what makes a woman attractive hinder a woman's ability to speak up for herself when she is disrespected. "In my life as a young adult, I have become acutely aware of the external and internal forces pressuring me to conform and to tolerate negative behaviors. Over time I noticed how these forces shaped girls and women around me," says Gulina. She realized that many women struggle with making their own decisions and are often unaware of the coercion. She adds, "I became interested in understanding the gaps in academic research surrounding the massive numbers of female victimization."
In her research, Gulina considers if a women's desire to be perceived as attractive plays a role in her tolerance for disrespect. Finding scant information on belittlement in academia, she conducted her own experiment. As a McNair Scholar, under Dr. Carrie Carmody's supervision Varvara started a new research project where she worked with her fellow lab-mates to create a unique experiment, wrote the IRB proposal, conducted interviews, and collected data.
Gulina's findings are still preliminary, but the hypothesis is that women, who are primed with fabricated information about men's preference for passive women, will speak up less frequently when they are belittled. "There is some early indication that some women choose not to speak up for themselves, not to appear rude. I am very excited to run the analyses and see what we find," she adds. Gulina dedicated hundreds of hours to this research. When Covid-19 struck, she had to re-imagine a way to continue the experiment in an online format.
Gulina was born in an impoverished part of Russia—about 40 miles from Moscow and saw no examples of women that exemplified how an educated or scientifically driven woman looked. "A woman's desire for education was routinely devalued and discouraged. At one point, I abandoned the possibility of higher education altogether, harboring a deep-seated shame about who I thought I was," she states. Now, she is not only pursuing a Ph.D. but plans to develop violence-prevention programs that focus on educating and empowering women in diverse countries and is proud of her Russian-Ukrainian background.
As a young mother raising a little girl, her work has filtered into her personal life. "I was driven by a notion that I am called to contribute to something greater than myself. "Through my own example, I hope to inspire girls and women to never settle for mediocrity and to pursue a life of their own making confidently," she exclaims.
Gulina found the McNair Program to be one of her most impactful experiences at CSUF. "The program is intense. It was painful at times, but it transformed me into a scholar who can think clearly and write more effectively. I owe everything to the faculty that invested so heavily in me," she says. The Ronald E. McNair Post-Baccalaureate Achievement Program prepares students from underrepresented, first-generation, and low-income students for doctoral studies. McNair Scholars participate in a range of research and scholarly activities, including completing a "McNair thesis" under a faculty mentor. The McNair Scholars Program is funded by the U.S. Department of Education created to honor Dr. Ronald E. McNair, Challenger astronaut, and physicist.
Gulina plans to continue to conduct research that focuses on examining the underlying psychological processes of women who find themselves amidst interpersonal violence and sexual victimization in Eastern European. Her cultural background and academic education put her in a unique position to bridge the gap and develop programs using a culturally-integrative approach. "I dream to one day see a world where all women are respected and protected."
Gulina was recently awarded the Sally Casanova Pre-doctoral Award. Sally Casanova Scholars have unique opportunities to explore and prepare to succeed in doctoral programs. Scholars receive one-on-one guidance provided by faculty members within the CSU and the opportunity to work with faculty from doctoral-granting institutions. Students receive a $3,000 scholarship with funding for visits to doctoral-granting institutions, travel to national symposiums, and conferences.
"Both of these awards are important to me because they indicate to me that there are people who not only support my educational endeavors but also believe in me as a leader," says Gulina.
Monique Garcia
History and Chicana/o Studies
Senior


Monique Garcia, MMUF Scholar and History and Chicana/o Studies major, interned this last summer at UCLA's Chicano Studies Research Center. Her research explores the marginalization of minorities and their fight for civil rights. She focuses on a Pro-Chicano youth activist organization, the Brown Berets, whose efforts and campaigns took place in the context of the Chicano Movement. Specifically, she examines the roles that young Chicanas had within the movement and how they navigated the patriarchy within the Brown Berets organization. Through this internship, Garcia had the opportunity to learn about digital archives, preservation, data entry, and "a sense of the work that goes into making archives fully accessible to the public,"

Garcia created her digital exhibit,"¡El Grito Para La Igualdad!/The Cry for Equality!" for the UCLA, Chicano Moratorium 50th Anniversary, based entirely off of her MMUF research at CSUF.
¡El Grito Para La Igualdad!/The Cry for Equality!

"Being accepted into the second cohort of the Mellon Mays Undergraduate Fellowship (MMUF) has been my most impactful undergraduate experience," states Garcia. The Mellon Mays Undergraduate Fellowship pushes to diversify the faculty at Universities by assisting minority students with the desire and dream of becoming a professor. "I feel that this fellowship is vital, especially with today's social and political climate. After years of institutional racism within the United States, academia has suffered from its effects." According to the National Center for Education Statistics, 41% of full-time professors are white males, 35% are white females, 6% are Asian males, 5% are Asian Females, and 3% are Black males, Black Females, Hispanic Males, and Hispanic Females. Garcia remarks, "Being a Hispanic female, this is disheartening; however, with programs like MMUF, this gap will hopefully be lessened in the future."

Garcia says, "Throughout my early educational career, I was taught a white, nationalistic, and biased view of history. Not until attending CSUF did I become aware of this." In her research of the Brown Berets organization, she found a representation of strength, unity, and pride for the Chicano culture. Many Brown Berets were her age. "I wanted to know what inspired them to take part?" she adds.

This past summer Garcia also interned at CSUF's Chicano Research Center, where she transcribed three Oral Histories on David Sanchez (the founder of the Brown Berets). Garcia's current research studies how the "church" assisted the Brown Berets organization in the fight to end injustice. She plans to pursue a Master's degree and then a Doctorate with the hopes of becoming a history professor.

"I hope to be able to integrate the knowledge that I have gained in the study of the history of minority groups in order to influence current discrimination and prejudice. I can help society grow by educating future historians. Although it may be dark and morbid, sometimes, learning the history of humanity gives me hope that the human race will continue to grow. We can prevent mistakes that happened in the past from happening again."