HSS News!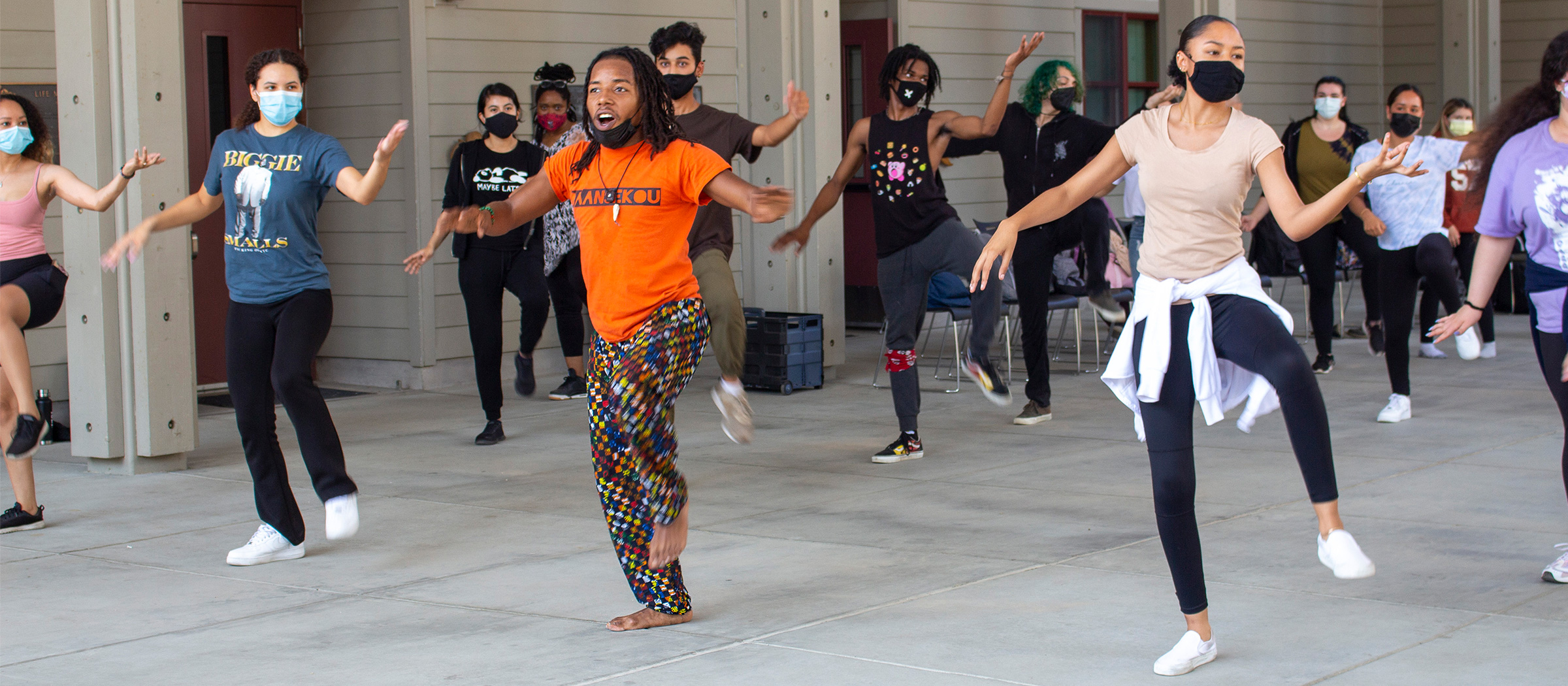 AFAM 314 Studies Pan-African Dance and Movement
Pan-African Dance and Movements is a theory course focused on encountering the movement spanning the African Diaspora, taught this semester by Tula B Strong. Through readings, viewings, and individual research, students probe Traditional African Dance Forms, Afro-Latin and Caribbean forms, Black Social Dance forms, Black Modern/Contemporary forms, and Black Experimental/Interdisciplinary forms. Through theory and practice of movement of African and Afro-Diasporic peoples, students are introduced to dance as quasi-language in perpetuating the lifestyle of African cultures and cultures of African descent. Strong points out, "My class is a great place for students who might be interested in exploring scholarship & research in new and creative ways."
"One of my main goals in Pan African Dance & Movement is to help students fall in love with dance. I hope my students are inspired by the Black Dance Artists & Movement Forms they encounter throughout this course and that they leave my class as lifelong Black Dance enthusiasts," explains Strong. 
To this end, Pan-African Movements invites guest artists to demonstrate and instruct students in various forms. Daunté Fyall, the first of 3 guest dance artists, conducted an outdoor event on a West African Traditional Dance at our arboretum. With two drummers delivering rhythm, Fyall lead this class through a West African dance sequence. This embodied research workshop provides participants the opportunity to experience with their bodies the movements, rhythms, and concepts that they will encounter continually through the course. 
Fyall was born in Frankfurt, Germany, and raised in Washington DC. A passionate dance instructor, performing artist, choreographer, and motivational speaker, he is also the founder of DAANSEKOU, "wise son," a multi-faceted West African Performance company.
Tula B. Strong is a new lecturer at CSUF. She is a Liberian-American performance artist focused on weaving dance, storytelling through music and faith. She creates multidisciplinary performances that deal with the everyday experience of BIPOC folk throughout the U.S. and the interweaving stories of love, wellness, and radical encounters with the Spirit of God. Strong has received her MFA in Dance from UCLA & M.A. in Educational Studies from Loyola Marymount.
I want my students to walk away from this course confident in their abilities as young scholars & researchers, adds Strong. But, more than that, I hope my students are inspired to share their research & knowledge in creative ways with the communities they love that exist beyond the academic setting. 
Later in the semester, Rachel Hernandez and Tai Ryan White are scheduled to give guest demonstrations/lectures on Samba Reggae and Black Social Dance, respectively.

Primary Resources – Research with world-class archives
The College of HSS is investing over $250,000 in purchasing digital primary source collections that students and faculty can use to study African American, Asian American, Chicana/o, and Native American communities. These purchases will ensure that the curriculum development in Ethnic Studies, spurred by the new General Education Requirement, will be enriched by student and faculty access to an array of primary sources. 
A committee comprised of five faculty members from HSS, the HSS Associate Dean of Student Relations, and the Collection Development Librarian combed over an array of different collections to choose the databases that will get the most use. Jessica Stern and Keri Prelitz, Collection Development Librarian, were the leads. Eric Gonzaba (AMST), Jamila Moore Pewu (HIST), Natalie Novoa (AFAM), Maria Malagon (SOCI), Erualdo Gonzalez (CHIC) were part of the working group. They prioritized sources that were created by African American, Asian American, Chicana/o, and Native American communities. 
Very early on, the working group determined that it was crucial to purchase sources created by Native Americans, Asian Americans, African Americans, and Latinx individuals, instead of just sources written by Europeans or Americans writing about these groups. Thus, newspapers created by these communities became a focus of the working group.
In this vein, they purchased a collection of over 9000 editions of American Indian newspapers created by indigenous peoples of the US and Canada editions from 1828-2016; the Hispanic American Newspapers collection, which is the largest compilation of Spanish language newspapers printed in the United States during the nineteenth and twentieth centuries; and the digital archive of Rafu Shimpo, the longest-running Japanese-American newspaper, which was printed right here, in Los Angeles. These newspaper collections will join over ten other new databases purchased this year that will support the development of our student scholars.
"As someone who has never used primary resources for study and has only relied on secondary and tertiary sources for research papers in the past, the chance to see the real writings, maps, photography, and accounts … was quite the opportunity. Stopping myself from going down the rabbit hole and continually scour the archives and narrowing my focus for this paper ended up being quite a challenge."  ~ Student
These library acquisitions put CSUF on par with Research 1 universities in the area, particularly the UCs. Stern explains, "As a faculty member teaching the history capstone course and graduate seminars, I often had to send students to their nearest UC library to get access to these primary source databases. As a result, our students were at a disadvantage in terms of their access to sources. With these purchases, our students will be able to spend more time with these collections and perform more sophisticated research with this sustained access." 
Undergraduate and graduate students working on original research projects in their courses will be much benefitted by having access to primary sources for their projects, instead of simply summarizing the work done by other scholars. Having access to primary sources allows students to create their own interpretations of history and society. Our young scholars will see trends that more seasoned scholars in their fields have missed. 
The working group chose databases that we felt were user-friendly for new scholars and will provide a great introduction to students who are just learning to work with primary sources. These have search boxes, timelines, and maps showing where and when the bulk of their sources were created, and thematic essays that highlight the ways the databases can be used.
In addition, HSS added the Wiley Royal Geographical Society Collection. Dydia DeLyser (GEOG) worked extensively with Wiley to run a trial of the RGS archive in her Geography 300A: Geographic Thought class and assigned students the Everest Expedition collections to explore and write about. Their papers were so inspiring when compiled and shared with the Library and College staff; Jessica Stern found funding sources to make this expensive purchase happen. 
"I have no experience researching with primary resources; this would be my first writing using only primary resources. The Royal Geographical Society archive let me see Mount Everest explorations from a first-hand point of view. I got to explore actual notes and journals of the early climbers of Mount Everest, and I was also able to learn some information about the Sherpa people. We hear of these great mountaineers and explorers to have been the early climbers of Mount Everest, … but not a lot is mentioned about their guides, the Sherpas." ~ Student
Five faculty received redevelopment grants of $500 each to design units and assignments that guide students in using the database to answer academic questions and practice research skills. 
Dr. Susie Woo, AMST, will revise AMST 324: Amerian Immigrant Cultures to incorporate the Proquest collection, "Immigration: Records of the INS, 1880-1930." 
Dr. L. Maria Bo, ENGL, will revise ENGL/CPLT 380: Introduction to Asian Literature to incorporate the Proquest collection, "Vietnam War and American Foreign Policy, 1960–1975​," and the Readex collection, "Global Perspectives: Amer. Race Relations (1941-1996)​."
Dr. Moe Miller, PAJ, will revise CRJU 385: Race, Inequity, and the Criminal Justice System to incorporate the Proquest database, "NAACP Papers: The NAACP's Major Campaigns" 
Dr. Tavleen Kaur, ASAM, will revise ASAM 364: The South Asian American Experience to incorporate the databases"Immigration: Records of the INS, 1880-1930," "Records of the Immigration and Naturalization Service, Series A: Subject Correspondence Files," and "Asian American Drama." 
Dr. Dydia DeLyser, GEOG, revised Geography 300A (now 400A): Geographic Thought to integrate the Wiley database, "Royal Geographical Society."
Equity in access, introducing our students to their first research with primary resources. Giving them a chance to use world-class archives they would otherwise never be able to explore. These archives will be used by classes, as well as for individual research projects by students or faculty.
With $7.8 million in the state budget, the North Orange County Public Safety Task Force continues to battle social problems that don't respect city boundaries. Laura Gil-Trejo, the SSRC's director, has been working on a deeper evaluation of the effectiveness and results of the task force's various efforts.