Study & Intern Abroad in London!
January 25th – April 26th  
About the program
The London Semester for Spring 2024 will engage you in an educational journey where the entire city of London serves as the context for your academic study, taking us into London's cultural and historical museums and landmarks, its governmental structures and agencies, and its ethnically diverse neighborhoods.  Through the courses in which you enroll, you will be invited to examine identities/cultures/histories you bring with you and those that you will encounter during your semester in London.
 Program Highlights
Open to all majors 
Scholarships and financial available 
Earn 12 to 15 units of upper division credit  
All courses taught by CSU Fullerton and CSU Long Beach faculty 
Intern within your major and career interests 
Choice of living accommodations: homestay or student apartment
Academic field trips and tours 
Walking tours through culturally rich neighborhoods/monuments/locations: e.g. Camden, New Malden, Chinatown, Tooting, Golders Green, Brixton, Spitalfields, Brick Lane Jamme Masjid
Visits to museums: e.g. Churchill Museum, Victoria and Albert, Museum of London, and Museum of London Docklands, Imperial War Museum
Transportation pass for unlimited access on the London tube (subway) and day/night buses provided
Optional 4-day, 3-night excursion to Scotland
Program Fee (tentative)
Homestay Living: $9,225        $6,420
Apartment Living: $11,500    $8,695
The program fee includes the following items: 
Housing (apartment or homestay)
All program academic fieldtrips  
Breakfast 5 days per week in homestay living only 
All-access ground transportation travel pass  
Group lunches  
International travel insurance 
The student fee does not include the following:
Round-trip airfare
Passport or visa fees if applicable 
Daily personal meals and other expenses 
CSU Fullerton books and tuition 
Program Courses
Student participants are required to enroll in HSS 350 and 9 additional units of any of the program courses totaling 12 units. 
In additional to the 12 program units, student participants can also enroll in one fully online CSUF course of their choice. 
CSUF COURSES: 
HSS 350: London Life and Culture (3 units; GE C.3 & Z)
In this class we will explore various aspects of London life and culture. In particular, we will be attentive to the deep history of multicultural London, a city where over 300 languages are spoken today. The class will consist of a program of visits from experts and tours (such as a street art tour), tickets to live performances, and the exploration of the riches London has to offer the student visitor. 
 HSS 495: Internship in London (3 units) 
An Internship in London allows students to explore a potential career field and gain hands-on experience outside of the classroom in an international setting.  The internship is designed to enrich and complement students' coursework and allow them to apply what they have learned in their major or minor classes.  Internships may take place in a variety of settings in London; they may occur in museums, libraries, service organizations, local government, or in nonprofit or corporate settings. 
 
ENG 306:  Intermediate Creative Writing:  Writing your Way Through London (3 units; GE C3)
Students will learn how to use creative non-fiction writing as a means for reflecting on the ethnic and cultural diversities they bring from home and the ones we will explore during walking tours of London. Students will learn how to take observational notes, read and study sample non-fiction essays about London, and receive instruction on the tools and strategies of non-fiction essay writing. Throughout the course, we will visit neighborhoods that represent the city's ethnic diversity, museums that illustrate the breadth of its cultures, historic structures that are centuries old, and new structures that look toward the future
POSC 322: Leadership for Public Service (3 units; GE D3)
Students will study leadership theories and practices in the global setting of London. We will meet with local and national government officials, business leaders, and governmental agency staff members. These meetings will inform our exploration of the social, environmental, and structural systems that impact public service leadership.  Students will examine how their own experiences and knowledge and their awareness of history and cultural context may make a difference in their own leadership development. Throughout the semester, students will participate in guided tours of historical sites and major landmarks, visit museums, and meet with leaders from governmental and nonprofit organizations.
CSULB COURSES (open to CSUF students): 
THEA/CWL 324 Theatre (in London) Today (3 units)
An examination of current trends, achievements and problems in contemporary western theatre and dramatic literature, with particular attention paid to multicultural expression in the theatre. A cultural experience of London would not be complete without an immersive and critical investigation of the influences of the accents of the British Isles in contemporary British theatre. This London-focused version of THEA/CWL 324 will examine the evolution of London accents and the sociolinguistic implications of accent in British society. Students will investigate how accent performance contributes to storytelling. Students in Theatre Today will attend various live theatrical events in London and critically reflect on the productions, both orally and in writing, with a special focus on examining the influences of accent performance. Additionally, students will be invited to various guest lectures from renowned accent coaches of the West End, including the accent coach for the Harry Potter plays, among others. Guests will provide students an insider perspective on why accent choices were made in the various productions they designed and coached, and how those choices contribute to the storytelling within the larger framework of British culture.
 
THEA 327: Theatre Protest and Social Change (3 units) 
This UK version of the course will examine texts of London, Northern Ireland, and Scotland from the 20th and 21st centuries. It will examine dramatic texts and supplemental sources for the political and cultural context within which the texts were created, the methodology the artists employed to create the texts, and the form of the final texts. The course will include, when possible, interviews conducted by the instructor with company members of the original productions. The hope is that students "get to know" these artists and in so doing, engage in an active and vital examination of the history (in some cases very recent history) of some seminal protest plays of the British Isles in search of why and how these methods and forms could be useful in the creation of the theatre protest plays of right now and/or tomorrow in the United States. The entire course leads up to a final project wherein students will create a development proposal for a social change piece of theatre, discussing the "why" of their proposal, and the "how" of their methodology.
Faculty

CSUF Faculty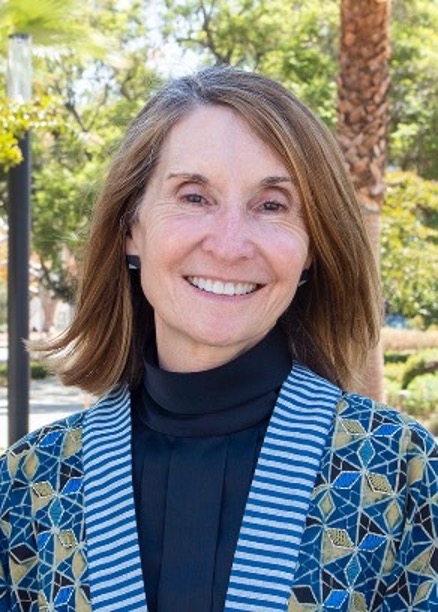 Dr. Sheryl Fontaine
sfontaine@fullerton.edu
English, Comparative Literature, and Linguistics, CSUF
A professor of English, Dr. Sheryl Fontaine teaches courses in academic and creative writing and on the topics of teaching and tutoring writing in college.  She has led study abroad/international trips to Europe and Central America.  Dr. Fontaine has held several administrative roles in her department, college, and across campus.  Most recently, she serves as the Dean of the College of Humanities and Social Sciences at CSUF.  She has published essays on the nature of emerging disciplines, writing program and academic program administration, shared governance, and, most recently reflections and recommendations on leadership drawn from her experience as a college dean serving through the pandemic.
CSULB Faculty 
Andrea Caban  
Theatre Arts 
Need more information?
Visit:  Student Success Center / HUM-112 / 8am-5pm, M-F 
 Email:  Jaycee Cover 
·RSVP & Attend an Info Session 
| | | |
| --- | --- | --- |
| Date | Day | Time |
| 8/24 | Thurs | 1-1:30pm |
| 9/6 | Wed | 1-1:30pm |
| 9/21 | Thurs | 1-1:30pm |
| 10/10 | Tues | 1-1:30pm |
| 10/26 | Thurs | 1-1:30pm |