Sociology
AT CALIFORNIA STATE UNIVERSITY, FULLERTON
What is Sociology?
Sociology is a social science that studies the social lives and behaviors of people, groups, institutions, and societies. Sociology examines social phenomena at multiple levels by using a variety of methods, including qualitative and quantitative approaches. It covers a wide range of social processes, from the analysis of brief interactions among strangers to the study of large-scale global change.
Sociologists ask questions like: What types of social relations and processes create and maintain class or racial inequalities in society? What are the bases of social solidarity, trust and cohesion among people in an organization? What are the social causes and consequences of crime and deviance? How do social movements shape the health care system? What is the role of institutions in regulating gender and sexual behaviors? Are modern societies becoming more secular or more religious?
What Can I Do With a Degree in Sociology?
Just about anything! A degree in Sociology is part of a strong program of liberal arts studies that fosters critical thinking and analytical abilities as well as develops the writing and communication skills that prepare students for a diverse and increasingly global job market. Majoring in Sociology prepares students for a wide range of occupations including social work, market research and statistical analysis, education, criminal justice, business and management, graduate school, and community and social services, among others.
Learn More About a Degree in Sociology
We encourage you to learn more, and find out if a degree in Sociology is right for you! Visit out website or call to speak to an adviser who can answer all of your questions, and help lead you down the right path.
Talk to an Adviser
There are three main academic advisors in the department. You can find advising information and the advising schedule at the below website. You may also email the general advising email (sociologyadvising@fullerton.edu) and one of the advisors will try to respond within several days
Alumni Feature

Amber Boggs
Case Supervisor, working with Foster Youth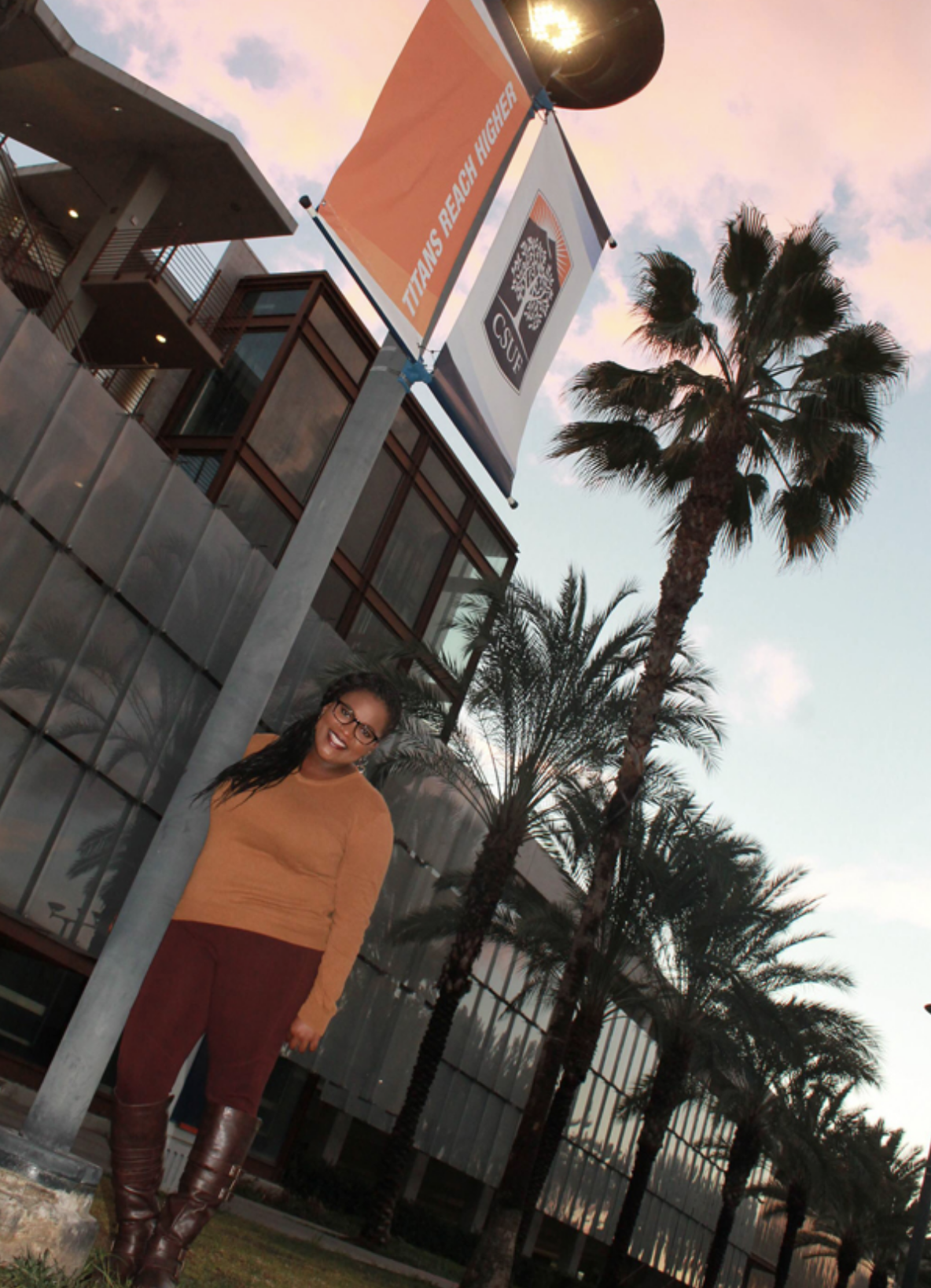 "My degree has helped me in my career path because so many, if not all, of the classes I've taken apply directly to the type of work I do."
Amber was originally a psychology major with plans to become an MFT and therapist for foster youth. It was during a summer session Sociology 101 course that things changed for her. "I started asking my professor lot of questions…the class and my professor sparked my interest." Amber recalls. After taking a few more sociology courses, Amber realized that she preferred sociology and made the switch.
Even though Amber had switched majors, her end goal was still the same – to work with foster youth. Amber explains "My degree has helped me in my career path because so many, if not all, of the classes I've taken apply directly to the type of work I do."
Since graduation, Amber has realized her initial goal, first working as a case manager with transition age youth, who have emancipated out of the foster care system, and today as a Case Supervisor for an agency that provides advocates to foster and probation youth.
"Sociology allows you to do a variety of things, and it taught me all about how these people came to be under served and what systems contribute to and perpetuate this inequality." Amber says. She believes that it is a great major for those who have a general idea of what they want to do because, as she explains, "there are so many possibilities to choose from, and so many paths to get you to where you want to be."
Contact Information
Location: College Park 900
Hours: Monday - Friday, 8:00am - 5:00pm
Phone: (657) 278-3531
Fax: (657) 278-2001
Email: sociology@fullerton.edu
 
About Our College and Campus
The Department of Sociology is a part of the larger College of Humanities and Social Sciences at CSU, Fullerton. H&SS offers its students more than 20 unique degree programs ideal for students who plan to continue their studies in graduate programs, or who want to work in areas such as education, law, politics, business, psychology, public administration, and more.

To learn more about our college and our campus, visit our Prospective Students and our College of Humanities and Social Sciences pages below.
All additional Spark photos are decorative background photos.
Photo credits: London Underground Escalators by Anna Dziubinska, unsplash. Modified.