Make the Most of Your Freshman Year
Humanities 100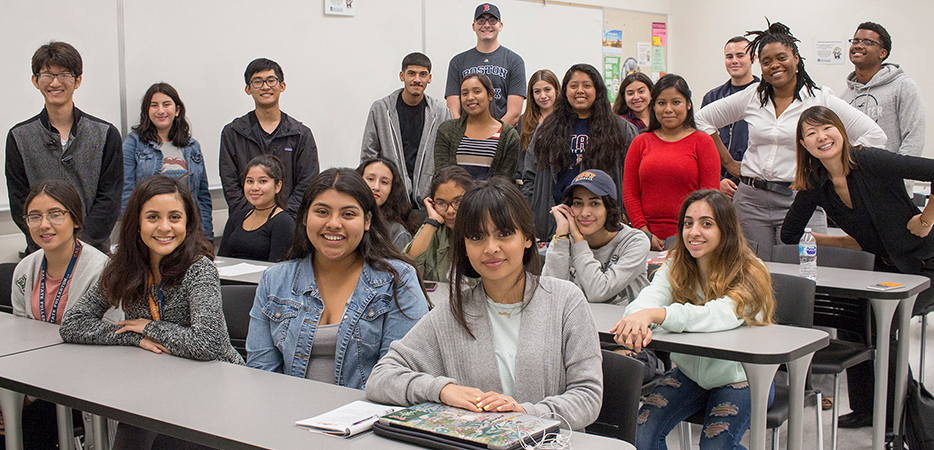 The College of Humanities and Social Sciences offers Humanities 100: Ideas and Experiences in H&SS exclusively to H&SS freshmen. The course is intended to support your transition into Cal State Fullerton by introducing you on day one to H&SS faculty and students, so you can be engaged and connected to your college and major from the beginning of your Titan experience.
Through Humanities 100, you will
Earn 3-units of coursework and participate in a course of 25 students or less, taught by our most highly regarded faculty.
Engage in fall semester academic and co-curricular workshops in Humanities 100 facilitated by a peer mentor, who is an H&SS junior or senior.
Explore and use campus academic, career, and co-curricular resources.
Create an academic plan for your major and explore academic options that complement your major.
Receive advising on courses for Fall and Spring registration.
Learn about research opportunities with faculty, getting involved, goal setting, studyabroad programs, library literacy, and more!


Meet Your Humanities 100 Peer Mentors

Jazlyn Acebal
Hometown: Santa Fe Springs, CA
Gender Pronouns: She, Her, Hers
Major: Sociology Minor: Child and Adolescent Development
Advice for freshmen: Be comfortable with getting out of your comfort zone.

Carlos Brambila Ramirez
Hometown: Tlaquepaque, Jalisco
Gender Pronouns: He, Him, His
Major: History
Advice for freshmen: I have three advice for freshmen students. First, is to get involved at school, this will make fullerton not only your school but also your home. Getting involved will also open many opportunities for you. Second, find your place at fullerton. Whether it is a club or space at school, find something that can be your support system. Lastly, drink water. Water is great. I hope you all have a wonderful time here​ at Fullerton.

Cheyenne Frazier
Hometown: Aliso Viejo, CA
Gender Pronouns: She, Her, Hers
Major: Criminal Justice Minor: Political Science and Anthropology
Advice for freshmen: My main piece of advice would be to try and take a moment out of the day to yourself and breathe. It might seem simple or cliche, but this will help keep the stress down, and it will allow you to sit and prioritize everything that is going on. Another piece of advice I could give would be to explore the campus whenever you get a free moment. Exploring the campus will allow you to find new study spots, food places, or even events that might not have known were happening.

Karen Huynh
Hometown: Westminster, CA
Gender Pronouns: She, Her, Hers
Major: Psychology
Advice for freshmen: Don't be afraid to ask for help! Everyone at Cal State Fullerton wants to help you succeed and provide you with the resources that you may need. Also, remember to get involved on campus and enjoy your time here!

Ha Nguyen
Hometown: Garden Grove, CA
Gender Pronouns: She, Her, Hers
Major/Minor: Psychology Minor: Health Science
Advice for freshmen: College is about finding out what you love to do. Be studious, be spontaneous, and most importantly, be yourself!







Clarissa Punla
Hometown: Dublin, CA
Gender Pronouns: She, Her, Hers
Major: Criminal Justice and Psychology
Advice for freshmen: Get involved! There are over 350 clubs and organizations on campus, so there is at least one that fits the interest of every student. Being involved not only gives you an opportunity to meet new people and make friends but it will also allows you to personalize your experience here at CSUF.






Karina Villa
Hometown: Anaheim, CA
Gender Pronouns: She, Her, Hers
Major: Political Science
Advice for freshmen: College is the time to discover yourself. An important part of growing is discovering what you are passionate about. Don't be afraid to step out of your comfort zone and say yes to new opportunities!






Beatriz Villarreal
Hometown: Montclair, CA
Gender Pronouns: She, Her, Hers
Major: English Minor: Cinema and Television Arts
Advice for freshmen: Take advantage of the resources given to you on campus: Student Recreation Center, Titan Student Union, Student Wellness center. These services are paid for by your tuition fees!
Apply to study abroad ANYWHERE! The amount of possibilities and areas of personal growth are endless. You never know what you can learn on a trip abroad even if it's only for a few weeks. It'll make your experience at CSUF that much more enjoyable.
African-American Studies
American Studies
Anthropology
Asian-American Studies
Chicana/o Studies
Comparative Literature
Criminal Justice
English
French
Geography and the Environment
History
Japanese
Latin American Studies
Liberal Studies
Linguistics
Philosophy
Political Science
Psychology
Public Administration
Religious Studies
Sociology
Spanish
Women & Gender Studies

Almost 200 spots are available in Humanities 100.  You will have the opportunity to register for Humanities 100 at Freshman Orientation.
For questions or concerns, please contact H&SS Assistant Dean for Student Affairs, Connie Moreno Yamashiro at  camoreno@fullerton.edu