Make the Most of Your Freshman Year
Humanities 100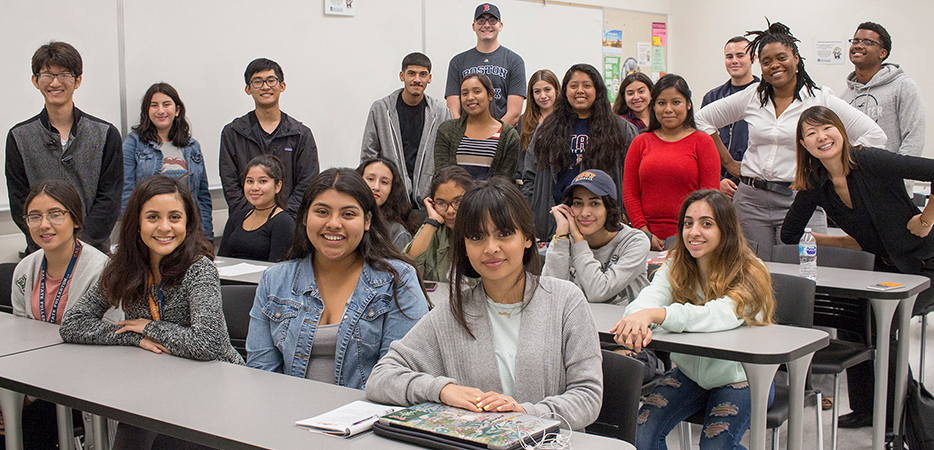 The College of Humanities and Social Sciences offers Humanities 100: Ideas and Experiences in H&SS exclusively to H&SS freshmen. The course is intended to support your transition into Cal State Fullerton by introducing you on day one to H&SS faculty and students, so you can be engaged and connected to your college and major from the beginning of your Titan experience.
Through Humanities 100, you will
Earn 3-units of coursework and participate in a course of 25 students or less, taught by our most highly regarded faculty.
Engage in fall semester academic and co-curricular workshops in Humanities 100 facilitated by a peer mentor, who is an H&SS junior or senior.
Explore and use campus academic, career, and co-curricular resources.
Create an academic plan for your major and explore academic options that complement your major.
Receive advising on courses for Fall and Spring registration.
Learn about research opportunities with faculty, getting involved, goal setting, studyabroad programs, library literacy, and more!


Meet Your Humanities 100 Peer Mentors

Xyvil L. Dapal
Hometown: Cebu, Philippines
Major/Minor: English, minor in Psychology, Senior
Advice for freshmen: It's okay to be confused! Confusion is a sign that you are changing and adapting – don't resist it! That's what college is about. Luckily, you have so many people on campus available through resources that WANT to help you through that change.

Lenise Gomez
Hometown: Chino Hills, CA
Major: Psychology , Senior
Advice for freshmen: You will be wrong, you will get lost and that's ok. The important thing is to remember to tell yourself "I am here because I want to know more, not because I know everything already. " No one expects you to know everything. Enjoy those moments of curiosity. CSUF staff is here to help you succeed not fail. I couldn't be more proud to be a Titan!

Daniela Juarez
Hometown: Los Angeles , CA
Major: Kinesiology, Concentration: Clinical Science, Senior
Advice for freshmen: Network! Get involved with a group or club that you feel comfortable joining and with people you can be yourself with. Also talk to your professor!!





Nathan Michael Paget Schuch
Hometown: Riverside, CA
Major: English, Senior
Advice for freshmen: Find something that speaks to you! Once you find it, get immersed! Say yes to opportunities you can say yes to! You find yourself getting experience, networking, having fun, and making friends all at the same time!





Nancy Villalvazo
Hometown: Azusa, CA
Major/Minor: Masters in Science counseling program
Advice for freshmen: Use as much resources available at school as you can!







Summer Young
Hometown: Orange, CA
Major: Criminal Justice
Advice for freshmen: Don't be afraid to step out of your comfort zone! You'd be surprised how many great connections and opportunities can come your way.





African-American Studies
American Studies
Anthropology
Asian-American Studies
Chicana/o Studies
Comparative Literature
Criminal Justice
English
French
Geography and the Environment
History
Japanese
Latin American Studies
Liberal Studies
Linguistics
Philosophy
Political Science
Psychology
Public Administration
Religious Studies
Sociology
Spanish
Women & Gender Studies

Almost 200 spots are available in Humanities 100.  You will have the opportunity to register for Humanities 100 at Freshman Orientation.
For questions or concerns, please contact H&SS Assistant Dean for Student Affairs, Connie Moreno Yamashiro at  camoreno@fullerton.edu