Program Dates
Arrive in Ghana: Sunday, June 9, 2024
Depart to US: Saturday, July 6, 2024
Information Sessions
Coming Soon
About the program
This summer study abroad program will focus on the theme "African Retentions: Experiencing a Source of African-American Spirituality and Identity in Ghana." It will provide all students with opportunities to experience living among the Ghanaian people and understand their culture in ways that can shed some light on African American spirituality, history and culture; empower Black Americans; and enlighten non-Black Americans about a significant aspect of history of America.
 Program Highlights
 Open to all majors
Scholarships available 
Earn 3 units of upper-division GE 
All courses taught by CSU Fullerton faculty 
Visit to Kwame Nkrumah Memorial Park and Mausoleum
Visit to W. E. B. DuBois Center  
Tour of Tamale township
Visit to the Asantehene's Palace
Visit to Kejetia Market: 11,000 stalls  
Visit to Kumasi Zoo
Guided Tour of the Cape Castle
Visit to Salaga Slave Market
Visit to The National Museum, Accra 
Visit to The Art Center (National Center for Culture)
Program Fee (tentative)
 $800 - $1000
The program fee includes the following items: 
Housing

All program academic field trips

Ground Transportation

Group lunches  

International travel insurance 
The student fee does not include the following:
CSUF books and tuition
Round-trip airfare
Passport or visa fees if applicable
Daily personal meals and other expenses
Program Courses
AFAM/RLST 325: African American Religion and Spirituality (3 units; GE D.3 & Z)
o   While reading the textbook and watching videos to contextualize the history and culture of African Americans, students will take tours to the forts and castles where slaves were kept before their shipment to America. They will pass through the infamous "Door of No Return," and stand at the grounds of slave markets in Salaga to feel the effects and consequences of slavery. In addition to some challenging, albeit informative, tours, students will visit scores of Ghanaian institutions to inspire Black awareness and promote global identity, such as royal palaces and local shrines, churches and mosques, parliament and its leadership, universities, local markets, and cultural centers.
Faculty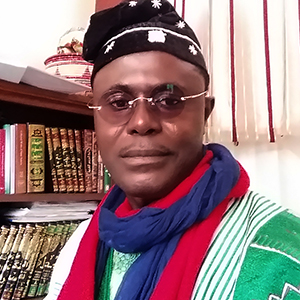 Dr. M. Zakyi Ibrahim
Religious Studies / African American Studies, CSUF
Professor M. Zakyi Ibrahim is the chair of the Religious Studies Department and an affiliate faculty of the African American Studies Department. He was born and raised in Ghana and undertook his higher education abroad in Malaysia and Canada. Besides teaching religious studies and Islam courses, he has been teaching AFAM/RLST 325, "African American Religion and Spirituality," for the past 14 years.