Working to make a difference in the life of our communities and developing the knowledge, skills, values, and motivation to make that difference. Promoting quality of life in a community through both political and non-political processes.

Justice in terms of the distribution of wealth, resources, opportunities, and privileges within a society.

An understanding of the impact that environmental, social, cultural, political, and economic issues have on the world based on an applicable knowledge of global and cultural perspectives.
The students of the College of Humanities and Social Sciences represent close to 8000 different lives, each one with a unique story about the journey that lead them to Cal State Fullerton and to their academic major our College. To celebrate the diverse stories that our students bring with them and the collection of stories that create the identity of Humanities and Social Science, we will introduce additional "Faces of HSS" throughout the year.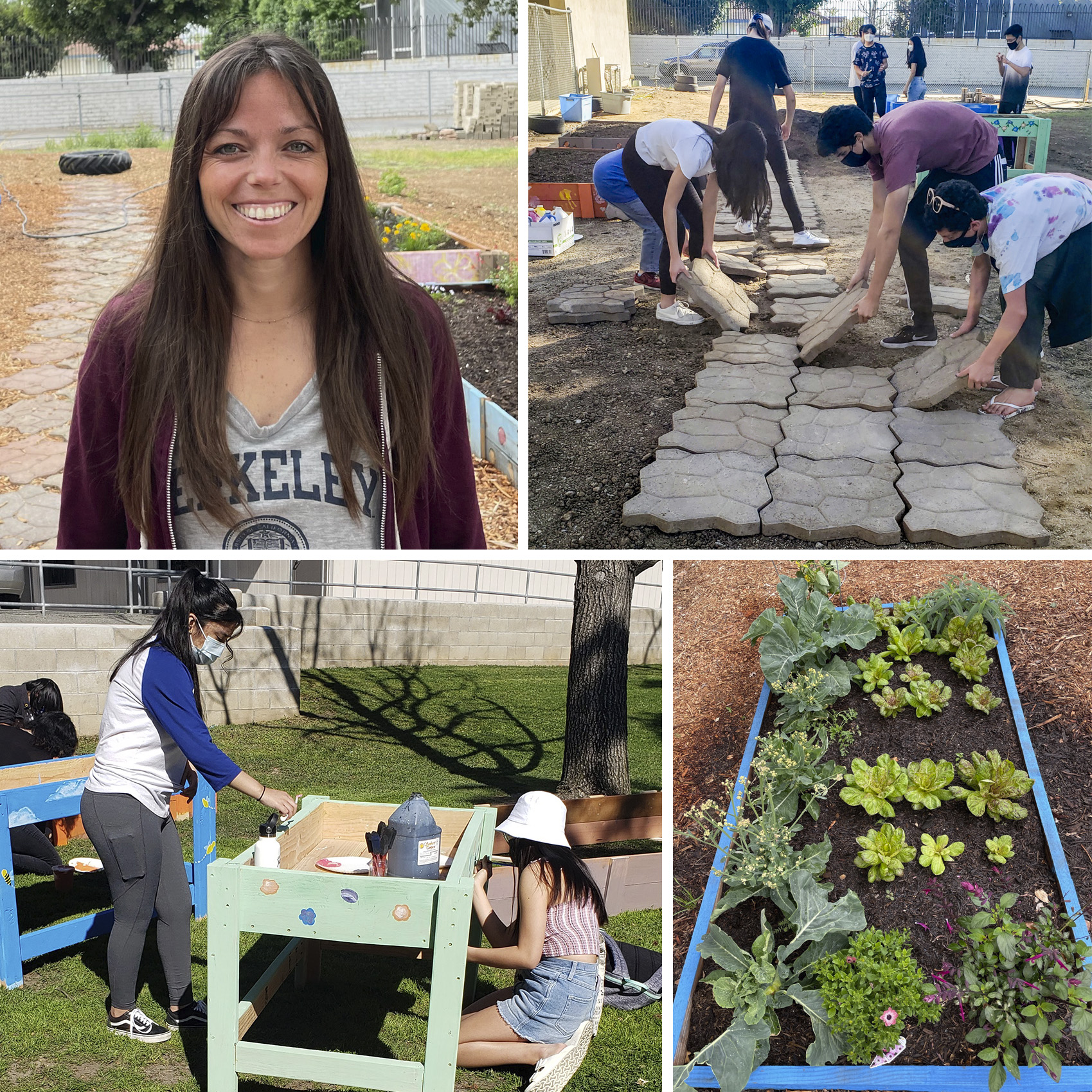 Rebecca Bonet
Environmental Studies
Grad Student
Rebecca Bonet is about to receive her M.S. degree in Environmental Studies while also teaching full-time at Valencia High School. During a routine science lab for her high school students, when she showed them how to extract DNA from strawberries, a student commented that he had never actually eaten a strawberry. She began to think about nutritional health, scientific knowledge, and the mental health that can come from gardening. Working with Professor Sara Johnson (who has been leading U-ACRE on CSUF's campus), gaining donations from local garden-supply stores, and involving community members from the youth to the mayor, Rebecca and her high school students  constructed a fabulous organic garden in a previously bare spot of her high school – despite the pandemic.
Bonet believes our food system and consumer food choices have had detrimental impacts on the environment. "We need to rethink the way we grow and produce our food. I had never gardened before, but I thought it would be great to start an organic garden to help teach students about where their food comes from, and how it is possible to be self-sustainable," explains Bonet. Her students grow heirloom plants germinated and provided by CSUF UACRE. They learn what to plant to attract pollinators, deter pests and add nutrients back into the soil without synthetic chemicals. They will conduct soil quality tests and design experiments centered around growing plants.
"My goal is for students to see the process of their food growing, to try new delicious organic foods, and to be inspired to be self-sufficient so that someday they may have their own garden at home. I also hope to get the kids outdoors more and working with their hands to learn and de-stress."
Bonet was born and raised in Orange County and grew up in Yorba Linda. She studied Molecular and Cellular Biology at UC Davis. Bonet studied abroad in Australia, learning about marine biology and terrestrial ecology, and decided to pursue teaching. "I am passionate about education and believe, if done properly, can be the key to our future," she declares.
Sergio Adrian Torres
Liberal Studies Major, Chicano Studies Minor
Senior
2021 Outstanding Graduating Senior Award, CSUF Alumni Association 


"Many people in my community of Santa Ana do not learn about Mexican/Chicano history through history books; they learn about it through art murals," explains Sergio Torres. Torres's senior research project explores and analyzes these murals as part of Native-descended Chicanx peoples' culture in Santa Ana. In Southern California, Murals that blend Indigenous heritage with contemporary Mexican American/Chicano culture inspire Chicanx youth to connect to their Indigenous roots and reflect on the meaning of their identities. The Mexican mural movement, or Mexican muralism, began as a government-funded form of public art. Murals showcase social and political messages as part of efforts to unify people and create conversations.
"I want people to know that public street art is a powerful way to preserve lifestyles, a way to build community, and a way to start conversations about social and political events."
Born and raised in Santa Ana, Torres knew of the murals growing up. "We have a lot of murals in Santa Ana. He has spent two semesters adding images to his project, saying, "I bought a camera, got in my car, and cruised around the city. People think that the art is centralized in downtown Santa Ana, but I expanded my search outside of the downtown area. I interviewed artists. I interviewed city officials to get the feel of the art scene. Ironically, there is a disconnection between artists and the city. The city says that they promote local artists. Local artists say the opposite."
Torres hopes to publish his catalog of the art of the city of Santa Ana online. The first section will showcase past artists and murals that have stood the test of time. The second part will present contemporary mural art, emphasizing Mexican/ChicanX inspired art and artists. The last part of the catalog will help encourage new mural art in Santa Ana by creating new opportunities for art around Santa Ana. Torres is searching for funding to make his online catalog a reality with his friend majoring in computer science.
Emigdio Vasquez painted over 30 public murals in central Orange County. The most recognized mural of Emigdio's is the "Legacy of Cesar Chavez," located in the lobby of the Cesar Chavez Business and Computer Center in Santa Ana College. Some of Emigdio's favorite subjects were the subculture of Chicanos and Mexican-Americans, including zoot suits and Pachucos and street people and day laborers that reflected a time in history.
There is life after death in Santa Ana. Several murals mark the place of death due to gang violence. Murals, candles, flowers, and religious items are left in honor of the fallen, allowing communities and families to heal. These also serve to bring attention to gang violence and perhaps help stop the violence.
Art in Santa Ana is a mix of old and new. Current hard-hitting topics like the death of Vanessa Marquez and Kobe Bryant now permeate the city. Artists also took to the streets and painted Covid-19 and BLM-related art.
Torres's dream is to return to Santa Ana as a professional Chicano. I want to give back to my community by being an academic advisor, counselor, or to support student success. A unique skill I have is my ability and passion for organizing community-building events. My faculty advisor, Angeles Sancho-Velazquez, Ph.D., has given me excellent guidance."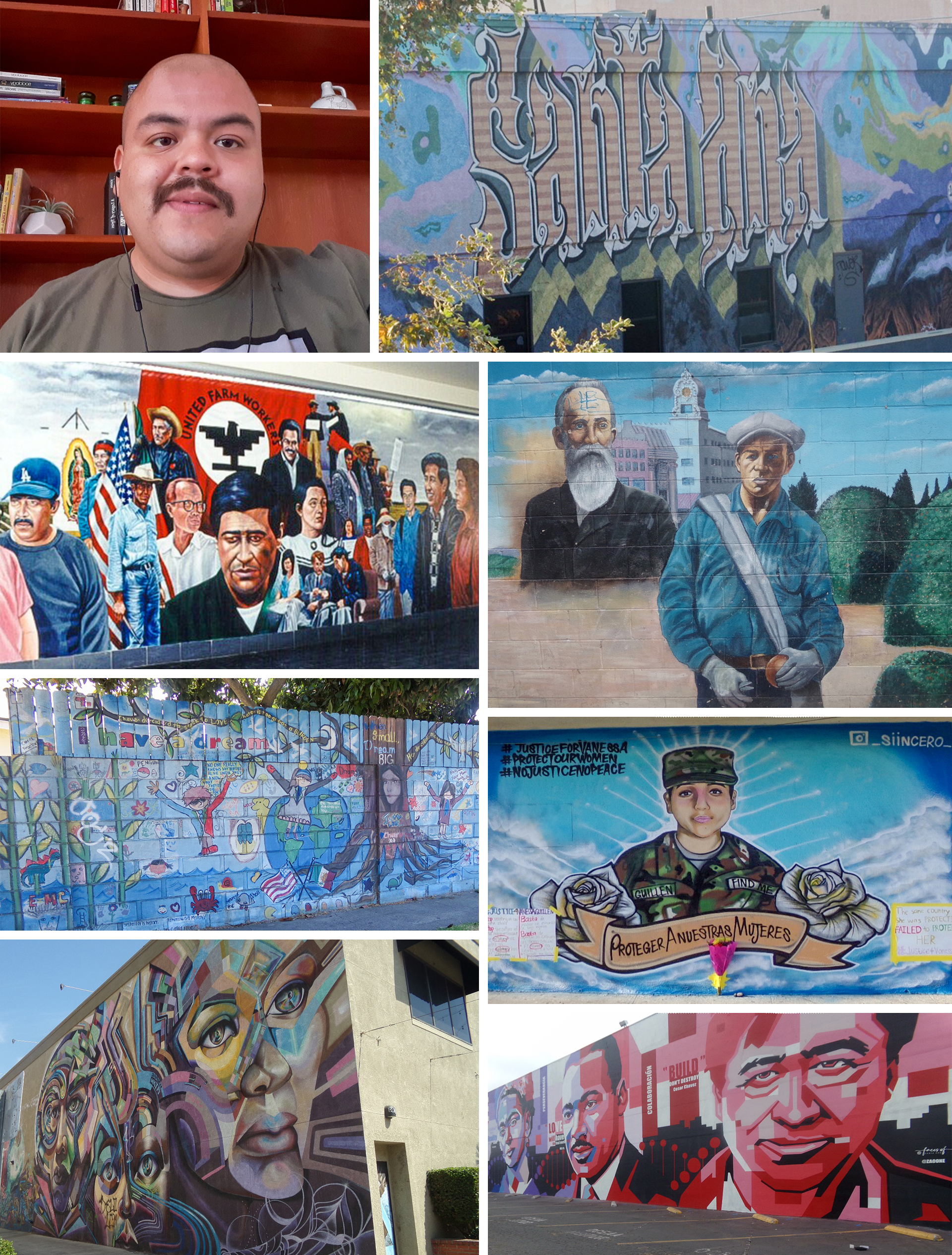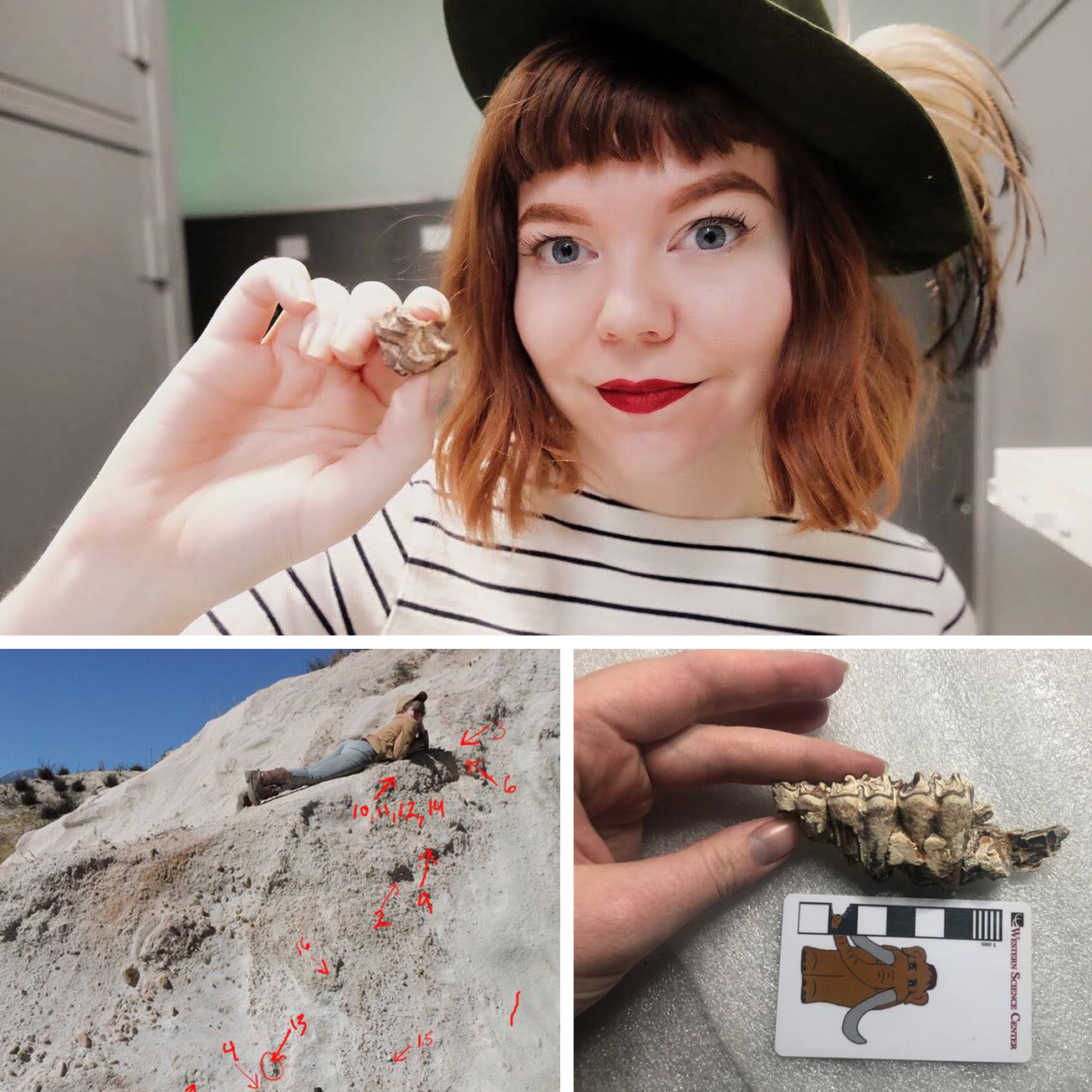 Brittney Elizabeth Stoneburg
Environmental Studies
Grad Student
Brittney Stoneburg worked towards her master's degree while also working for Western Science Center in Hemet, California, where she is currently a vertebrate paleontologist and the Outreach and Communications Coordinator.
At the Center, she became excited about doing paleontological research into the miniature horses that roamed Southern California millions of years ago. Researching historical newspapers, she noticed these three-toed horses were sometimes called 'doll ponies.' She and her co-workers wrote "Doll Ponies," a children's book, to better communicate to the broader public their excitement about a few tiny, ancient bones and how they tell the story about climate change. The book will be published soon to go along with the exhibit she is designing for the museum.
Stoneburg became interested in pursuing scientific research and a graduate degree in paleoecology (even though her undergraduate degree was English) after working at the natural history museum for several years. A colleague told her about the Environmental Studies M.A. at CSUF, and it turned out to be a perfect fit. "Not only did I get to study science and the environment, but I also got to stay true to my academic roots in the humanities," she explained.
The museum is creating a series of children's books based on research produced by its scientists to make scientific papers digestible for young readers. Stoneburg published research on these tiny, three-toed horses as part of her final M.A. project. 
"I hope the book will make science more approachable for kids and show them that paleontology is more than just dinosaurs! Whether it's through an exhibit, a book, or a scientific paper, I want people to look at my work and feel a new appreciation for the environment in the past, present, and future."
Stoneburg wants to keep working in natural history museums and learn more about Southern California's prehistoric environment. She helped cofound the education initiative Cosplay for Science with CSUF alums Gabriel Santos, Michelle Barboza, and Isaac Magallanes.