Dr. Arnold Miller, passed away on October 19, 2018, in place of an obituary we are honoring him by republishing an article about him published in the OC Jewish Life Magazine in June of 2009.


---

A Memorial Service for Dr. Arnold Miller will be held Sunday, Nov. 4, at 2:30 p.m. at Temple Beth Tikvah, 1600 N. Acacia Ave., Fullerton.


---
 
FATHER OF INVENTIONS
Arnold Miller Found Method To Make Mammograms Safer  
 
---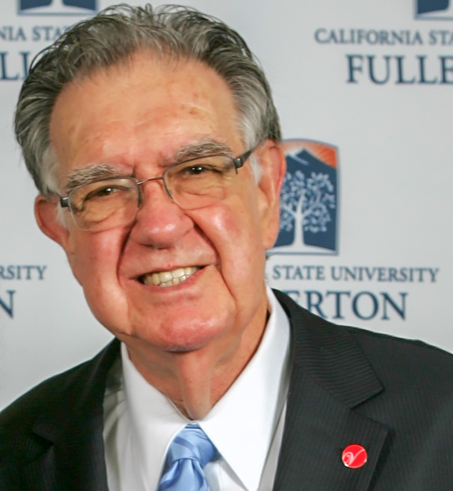 Multitasking Mensch
Arnold Miller is a distinguished scientist and humanitarian.
By Judy Florman
Smog on the North Pole? You bet! Just ask Arnold Miller and he can prove it! His company, Theta Sensors, lnc., developed a telemetered device for NASA to measure the sulfur dioxide content of the atmosphere at flight altitudes.
It seems that Sheila Scott, award winning aviatrix and Barefoot in the Sky author, was headed for a 31,000-mile solo around the world flight in the light plane, Mythre. Miller's meter joined the plane's automatic electronic devices that would measure her vital signs and telemeter the data to Nimbus satellite and then to NASA. The story of Miller's special instrument, the first to detect smog at the North Pole, was documented in her book and featured in an article in the Los Angeles Times. Miller's little black box has been hailed as a major contributor to the understanding of global pollution.
The world of chemistry, economics, and gerontology have recognized this unassuming, fun-loving, caring man, but few are aware of his myriad achievements worldwide and in the community, nor his work as  leader and consultant with the World Bank, or that he has been instrumental in helping China achieve status on the world economic map.
Arnold Miller is as tall of build as full of heart, best described by Cal State University, Fullerton, President Milton A. Gordon upon his bestowing on Miller the honorary Doctor of Humane Letters degree from the Southern California College of Optometry in Fullerton (now called Marshall B. Ketchum Universtiy). "He is more than deserving of the honor. Education couldn't have a better friend than Dr. Miller, who is a tremendous asset to the community. We have been the beneficiaries of both his expertise and his generosity." 
Last month he was honored as commencement speaker for the CSUF sociology and gerontology graduates.
Named Volunteer of the year in 1995, Miller joined the CSUF University Advisory Board, serving as its chair for almost a decade. The community became heirs to his dedicated participation in the creation of a multidisciplinary gerontology program. With his wife Beverly, they established the Beverly and Arnold Miller Endowed University Scholarship in Gerontology for students attending CSUF. To date (2018), more than 100 scholars have received the award.
Alter selling his company, he joined Xerox Corporations Medical Products Group, where he was instrumental in developing low-dose mammography, protecting women from being burned by xerographic plates. The placement of 2,000 machines in the United States initiated the screening process. As corporate vice president at Xerox, Miller was responsible for its vertically integrated worldwide electronics operations, spanning development, engineering, manufacturing, and global sourcing.
 
Fullerton resident Arnold Miller, shown with his wife Beverly, has had an impact on the worlds of chemistry, economics, and gerontology.


In 1987 he established his Technology Strategy Group, a consulting firm organized to assist businesses and governments in the issues of technology strategy and corporate governance, specializing in electronics and materials. Its clients include the World Bank, Xerox, Industrial Development Bank of India, and the City of Shanghai Electronics Ministry.
The World Bank tapped Arnie in 1988 to organize and co-chair a three-week seminar in Washington, D.C., with extensive follow-up with the Chinese government and industry and academic leaders on becoming competitive in electronics. The work was subsequently published in 1991 by the Chinese in a 650-page red-bound book, entitled "Research on the Developing Strategy of the Electronic Industry," based on class notes, papers, and discussion.
Ironically, though the book is written in Chinese, its publisher chose to list Arnie's authorship in English, as Arnie elaborates, "My specific paper is in Chapter 5 and for some reason, it is the only paper whose author is listed in both Chinese and English." This lead to a humorous coincidence that Arnie relates:
"Six year later, I was escorting several senior corporate clients to China to explore a novel joint venture opportunity. In the midst of a meeting in Tianjin, an enormously important Port Free Trade Zone, in saunters Shi Qi Lin, director general of the Tianjin Electronic and Instruments Industrial Administration. He spotted me, extended his arms and exclaimed, 'My teacher!' I extended my arms and responded my, 'My student!' We heartily embraced while the Chinese staff quietly applauded. It turned out that Shi Qi Lin was truly a student in my earlier seminar and over the years had been promoted to his present very important position."
But life hasn't been all scientifically serious for soft-spoken genial Arnie. In 1950, he and Beverly were married between semesters after a whirlwind courtship that commenced in Chicago where Bev attended Northwestern University. That partnership produced three daughters: Debbie, a Washington, D.C. economist; Marla, a San Francisco judge; and Linda, a movie writer and director. Plus, a three-granddaughters and one-grandson bonus. (2018 and one-great-grandson.)
In film, Arnie acted beside Angie Dickinson in Big Bad Mama II and Beverly and Arnie co-starred in the movie Purple People Eater in which Arnie was the father-of-the-bride and Bev the real estate lady in the purple mink coat. The stars included Little Richard, who played the mayor of Fullerton (the location of filming) and Chubby Checker, with whom Linda jitterbugged. Linda directed the movie and it starred Ned Beatty, Shelly Winters and Thora Birch.  Arnie was the producer of the film, Flying Ryan and also co-anchored a TV science show in early, live television days.
Arnie relates a favorite memory of Purple People Eater. "Linda had hoped for a 'PG' rating, but garnished a 'G,' which would have been the kiss of death for future success. When she received a copy of the finished film, the producers had an expletive inserted. The board raised the rating to a 'PG' and the movie ran for 17 years." Arnie donated his residuals of $1.97 to Heritage Pointe.
Arnie's work with Heritage Pointe is one of the highlights of his life, directly responsible for his profound interest in gerontology.
As a founding board member, he served for three years with Leon Schwartz as co-chair of the planning community for establishing a Jewish Home for the Aging in Orange County, which become a reality in 1990. Both we honored in1991 as shared recipients of the annual Heritage Pointe Award. Arnie served 10 years on its board.
A widely published author of scientific papers, patents and monographs in the field of technology transfer, electronics and materials, Arnie's paper on single-crystal thin films has been directly applied to electronics and was among the precursors to nanotechnology. Listed in Who's Who in America, he is a fellow of the American Association for the Advancement of Science. He earned his B.S and Ph.D. in physical chemistry from UCLA, where he graduated Phi Beta Kappa and as a Mosher Fellow.
Arnie has held technology advisory board positions with Stanford, USC, and UCLA. For more than a decade he was a member of the Policy Board of the State of California, supporting innovative research in microelectronics and computer science (MICRO). Recently, he was co-editor and contributing author of the interdisciplinary book, Electronics Industry Development.
Beverly has been an active contributor to the community: an OC Harbor, Beaches and Parks Commissioner, an OC Planning Commissioner, a land use planner for Ralph Dietrich, one of the founders of the North OC Child Guidance Center, and a chair of the Fullerton PTA (Parents Teachers Association). She was campaign co-manager for Frances Wood's successful run for Fullerton mayor (the first woman), ran the citywide cancer drive for Fullerton for four years, and was office manager/controller of Savant for over a decade.
Residents of Fullerton and members of Temple Beth Tikvah, Arnie and Bev traveled internationally for 20 years, often involving his industry directorships. These included founding board member of Spectro Diode Laboratories, board member of the color graphics companies of Merisel and Colorep, and engineering composite joints venture companies of WKR/Brown Bovari (France) and WKR/Morgan (England).


---

If you wish to honor Arnold's memory, in lieu of flowers, donations can be made to:
Beverly & Arnold Miller Endowed University Scholarship In Gerontology
Please Make Check Payable To: CSF Philanthropic Foundation (CSFPF), In Memory Of Dr. Arnold Miller,   Acct. #90840 
MAIL TO: Attn.  ALINA - College Of Humanities And Social Sciences,
800 N. State College Blvd., Suite H211, Fullerton, CA 92831


---

Thank you.