HSS News Flash!
Meet Christine Gardiner, professor of criminal justice and a senior research fellow for the Police Foundation. Her fields of expertise include policing, crime policy and juvenile delinquency. [Video]

Titans of Talk! Moot Court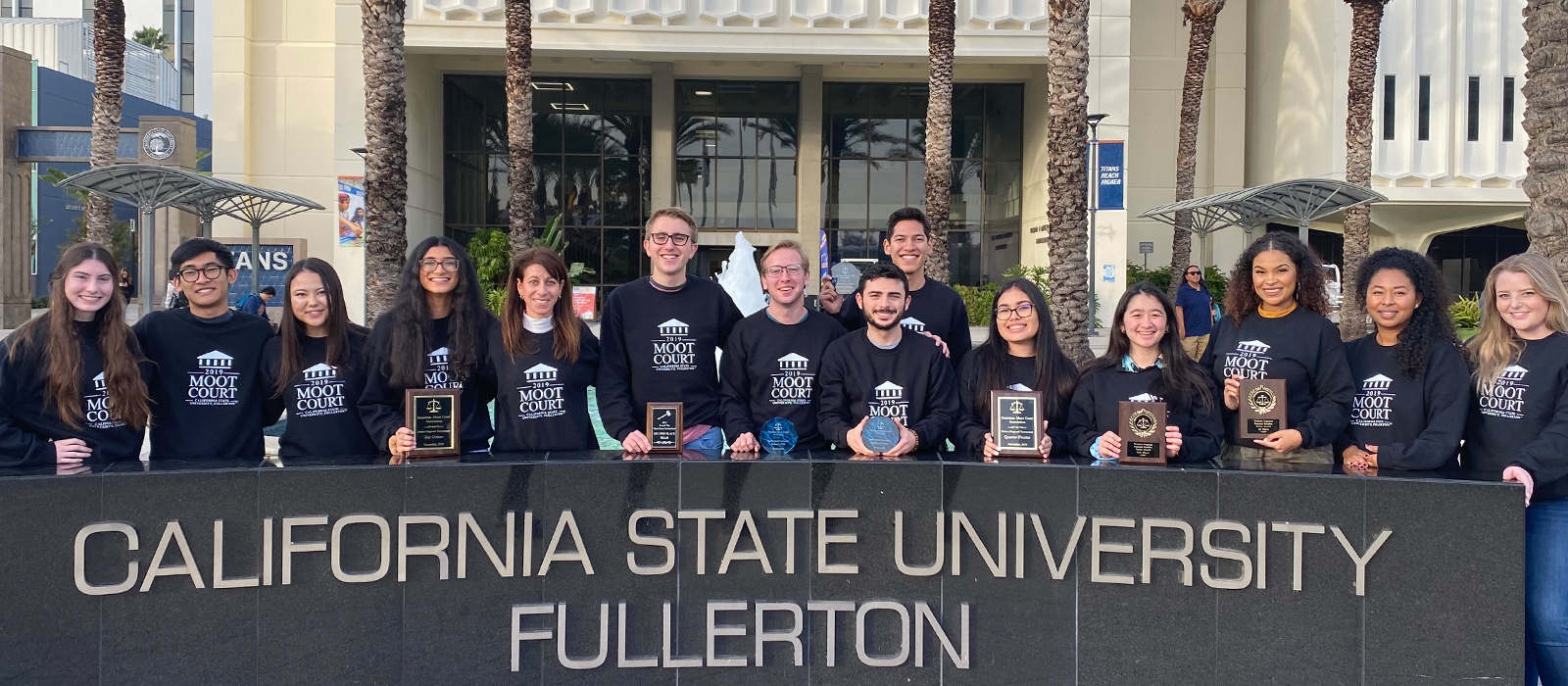 HSS Moot Court team finishes up year with some wonderful successes!
Moot court is a competition in which which participants take part in simulated court arbitration proceedings. Teams take a side, write briefs, and make oral arguments.
At the University of Chicago Tournament in October Cal State Fullerton's Moot Court Team brought 4 teams, and all advanced to elimination rounds.  We placed 2nd and 3rd with the team of Marisol Alvarez (Psych/CRJU and Ian Finely (POSC/Spanish) losing by one ballot to finish second and the team of Kristin Sinks (POSC/HIST) and Lauren Peterkin (POSC) losing in the semi-finals but again losing by one ballot.
At the Fresno Regional early November, Lauren Peterkin (POSC) earned best speaker and Jennifer Nakano (POSC) earned 5th, out of 76 students and moved our teams to elimination rounds. 
At the Eastern Regional later in November CSUF brought 4 teams, all 4 moved to elimination rounds and qualified 3 teams to nationals and earned 4 speaking awards including Ian Fisher (Music/HIST) Claire Jenkins (POSC/HIST) Kristin Sinks (POSC/HIST) Navdeep Sidhu (Business) - this regional had 60 teams (120 students), amazing results!
At the National Tournament in Baton Rouge at Southern University Law Center, 80 teams from across the United States competed from 474 teams that competed in regional tournaments.  125 written briefs were submitted for each side - Titans earned 3 brief writing awards including 5th place petitioner to Lauren Peterkin and Jennifer Nakano, 5th place respondent Marisol Alvarez & Ian Finley and 3rd place respondent Ian Fisher & Navdeep Sidhu! 
Marisol and Ian earned 5/6 ballots on day 1 allowing them to bypass the first round and entered 10th seed in the double octafinals, falling to U Chicago 1-2, and placing 20th overall.  Ian Finley earned 7th place speaker with over 387 average of 400 possible points out of 160 national competitors.

Cycling to Learn: Study Abroad Denmark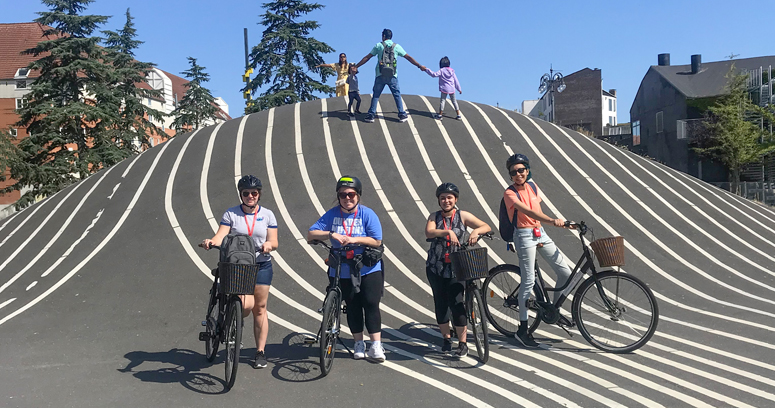 Dr. Carrie M. Lane and a group of CSUF students cycled around Norrebro, Copenhagen, during an HSS Study Abroad trip to Denmark last summer. Norrebro is one of Copenhagen's most ethnically diverse neighborhoods, home to most of the city's newest immigrants. On the tour, students learned about urban planning and policy strategies Denmark is using--with varying levels of success-- to manage its increasingly diverse population. Students experienced firsthand what it's like to travel by bike in a city increasingly built for bicycles, rather than automobiles.
Copenhagen is an especially great destination for tourists and Study Abroad students because it is easy to navigate by bike (or on public transportation. The Danish people go to great lengths to keep their city accessible, environmentally sound, and user-friendly for families, professionals, and tourists alike. As students learned on the tour, good livable cities don't just happen--they are the product of collective, ongoing efforts to build and maintain spaces in which people can thrive.
Grace Johnson, American Studies major, Sociology minor and Study Abroad participant, commented, "It was rewarding to see Copenhagen while partaking in its prevalent biking culture. In Copenhagen, people rely on their bikes for transportation, since bikes outnumber cars. The non-smoggy streets are filled with cyclists. The use of bikes has allowed individuals to engage in a healthy lifestyle while being environmentally conscious."
In addition to their time spent biking and walking around the city, students also conducted service-learning with FoodSharing Copenhagen (https://foodsharingcph.org/), a non-profit organization that redistributes surplus food to eliminate food waste, students helped collect, organize, and distribute food. Students' service-learning activities, which were funded by the CSUF Center for Internships and Community and Engagement, were part of the Study Abroad program's broader focus on understanding diversity in Denmark.
Through assigned readings and class outings, students learned about different forms of diversity within Danish culture, including gender, class, race, national origin, and sexuality. The students learned to push beyond stereotypes of Denmark as an ethnically and culturally homogeneous nation to arrive at a more nuanced understanding of the country's strengths as well as the challenges it faces. "Most Americans' ideas about Denmark, about any other country, in fact, tend to be partial or even downright mistaken. I wanted students to see that Danes are not all tall, white, Nordic individuals, that Denmark is, in fact, home to a diverse population. I also wanted them to understand that learning about how other countries manage the challenges they face--economic, political, cultural, and environmental--can help us think better about our own country's future," says Lane.
"I recommend studying abroad to all students because it is a rewarding experience being immersed in and learning about a whole new culture. Even if you have some hesitations about applying to a program, I say go for it; there are people around who will answer any questions you may have. Coming into college, I never thought I would study abroad, but I decided to take a chance, and I am so grateful I did," advises Johnson
Carrie M. Lane, Ph.D., is a Professor of American Studies at CSUF. Her research concerns the changing nature of work in the contemporary U.S. She teaches courses on work, women, community, disability, ethnographic research, and the theories and methods of American studies.
Find out more about Study Abroad

Zoot Suits in American Culture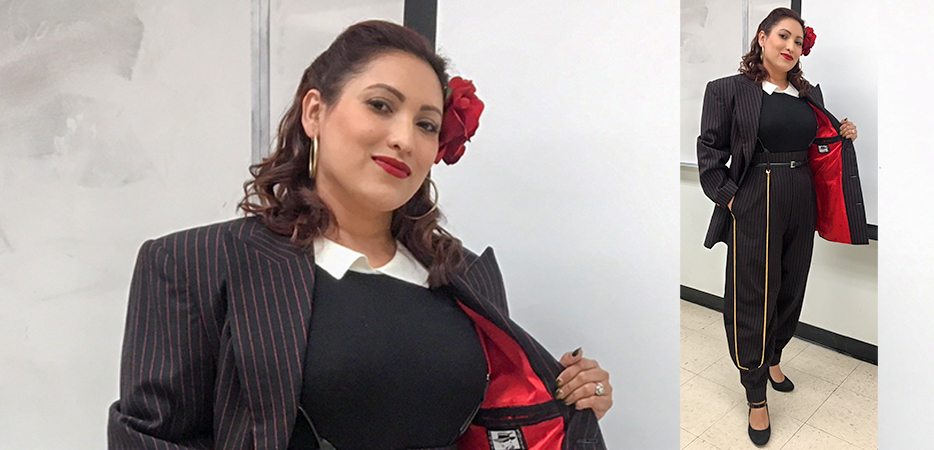 Vanessa Estrella (CSUF grad – double major in Criminal Justice and Business Administration and Ray's daughter-in-law) and Ray Estrella, who with his wife, Phyllis, co-founded Fullerton's El Pachuco Zoot Suits store, spoke about the history of the zoot suit, the history of their family store, and aspects of custom tailoring and sourcing fabrics in Dr. Terri L. Snyder's American Studies 451 class. Ray and Phyllis Estrella opened the store in 1978. They had seen a production of Luis Valdez's play, Zoot Suit, and Phyllis wanted to purchase a zoot suit for her brother, but finding one was difficult. This inspired her to open El Pachuco Zoot Suits. The business is still family-owned, providing tailor-made zoot suits for customers across the world and supplying the television and movie industry with zoot suits.
Examining history and fashion together impressed Snyder's students. Kristine Gopez learned how the store custom makes zoot suits: "from the pattern, accessories, lining, and stitching; zoot suits are strategically created." Jacklyn Huynh "appreciated seeing a woman wear a full zoot suit, since more images are of men wearing them." Bryanna Romero noted that when a person wears a zoot suit, "it can have a political statement attached to it." During the Zoot Suit Riots in 1943 Los Angeles,  Miranda Bates pointed out, Mexican Americans were targeted because of their zoot suits, but wore them anyway to feel "powerful and also to combat racial stereotypes."
Above all, students were impressed by the Estrella family's commitment not only to making zoot suits but also to preserving the history and culture of the zoot suit. Barbara Linan-Martinez remarked, "I learned that it is important to follow your dream and passion. Ray and Phyllis Estrella chose to follow theirs, and it allowed for this business and culturally rich space to be born."
Terri L Snyder, Ph. D., from the University of Iowa, teaches the AMST 451 course. Her research includes Slavery and Freedom in US History and Memory; Race and Gender in Early America; Early American Cultural History.
AMST 451: Fashion in American Culture examines the material culture, history, and politics of fashion in America. The class analyzes fashion as an expression of personal, cultural, and national identity; as a marker of class, race, ethnicity, age, gender, and sexuality; as a political symbol; and in terms of its production and consumption. 
The American Dream!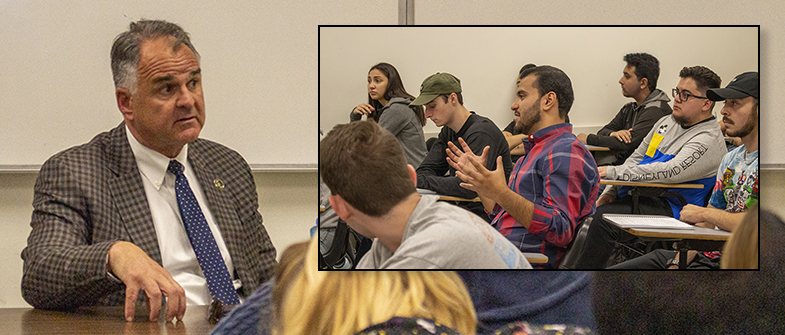 CSUF president Framrose Virjee visited Dr. Elaine Lewinek's American Dream class on October 31, 2019, and presented his version of "The American Dream," sharing how he progressed from humble beginnings to be the president of CSUF. His father was orphaned in India at the age of two, forced to fend for himself, but worked hard and eventually became a merchant marine captain. He married a Swedish woman whose family had lost their farm. Virjee's entire family traveled with his father on his ships until, at age 6, Virjee, along with his family, immigrated to the United States. Virjee's dad remade his life again, first working for others and later teaching himself how to invest in the stock market (all without the benefit of a college degree).
Virjee described to the class how his "American Dream" differed from that of his father, for whom the "American Dream" meant toiling to provide a lower-middle-class life for the family so that his children "would" be educated. Virjee was the first in his family to attend college, UC Santa Barbara. After he earned a law degree from the UC Hastings College of Law, Virjee's "American Dream" began as a lawyer providing for his family but evolved over the years to working for a better community. Eventually, he became an executive in the CSU Chancellors office and then to the interim president of CSUF and now president of CSUF.
Virjee went on to say that everyone's version of the "American Dream" is different. He pointed out historical figures that played an essential role in shaping his views, Robert Kennedy and Abraham Lincoln. He impressed on the class the idea that if you have the luxury of not having to struggle to provide, you can have a more humanitarian "American Dream," to perhaps make the world a better place. In that spirit, Virjee and his wife are co-founders of a non-profit in Rwanda dedicated to giving back and improving the lives of the Rwandan people striving to provide the basic human needs of clean water, nutrition, and healthcare.
AMST 345 - The American Dream is a class that explores and analyses, both historical and contemporary, the myth and reality surrounding the notion of America as a land of unparalleled and unlimited possibilities, especially in the achievement of personal material success.
Elaine Margaret Lewinnek, Ph.D., graduated from Yale University. Her areas of research are Urban history, including the history of suburbs in Chicago and Orange County, California history, theories of cultural studies, and public memory.
Meet Christine Gardiner, professor of criminal justice and a senior research fellow for the Police Foundation. Her fields of expertise include policing, crime policy and juvenile delinquency.Video.
Flash Mob Energizes the Quad of HSS!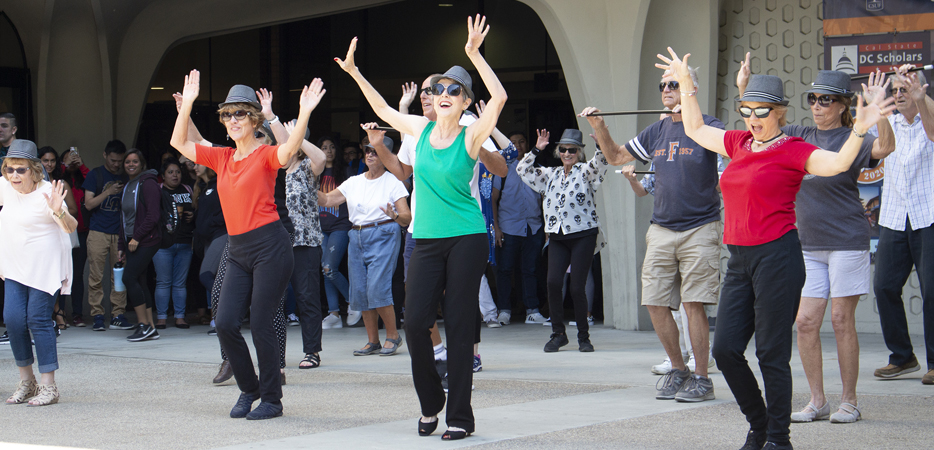 A lively group of older adults, the Fullerton Flashers, strutted their stuff and danced to energetic music in October on the steps of HSS. The Fullerton Flashers, 59-86 years old, are OLLI participants from the Ruby Gerontology Center and entertained for Geropalooza. OLLI also gives presentations in CSUF classes, serves as mentors, and supports the Aging Studies Academic Program by participating in research.
Melanie Horn Mallers wanted to bring the field of aging to the campus. She started the Geropalooza event 3 years ago. "Student's, even some faculty, do not know what gerontology means, let alone understand the depth of its discipline. There are a ton of negative stereotypes about aging, and I wanted to share the realities of aging. Given we are in the Graying of America, learning how to become more marketable is essential for students and career development."
Mallers earned her master's degree and doctorate in family studies and human development, with an emphasis in older adult health education, from the University of Arizona. She is a life-span stress-health researcher and wanted to understand more about how reducing/managing stress can increase well-being across the lifespan.
Mallers hopes to grow the minor in aging studies and M.S. in Gerontology as there is a "major shortage of trained aging-related specialists despite the growing need!!"