Chair's Message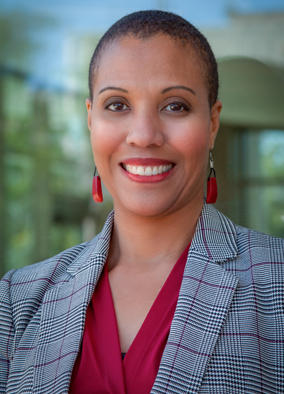 Welcome to Cal State Fullerton's African American Studies Department. Developed from a powerful teacher scholar community, our department is a small but mighty one, where students come first. We focus on teaching and research about Black people within the United States and abroad. Our faculty's specialities include English, Creative Writing, Gender Studies, Cultural Studies, History, Sociology, Political Science, and Musicology. Our dedication to affirming Black peoples' diversity is reflected in the interdisciplinary courses that we offer. Our annual symposiums highlight African American culture and politics. Some recent ones included African American Food; Black Disability; Black Fatherhood; Hip Hop; Sports, Race, and Gender; and Black LGBT Culture. We also create annual programming for Black History Month and National Poetry Month. Some of our recent graduates have studied at prestigious universities for graduate work, pursued careers in education, been selected for competitive fellowships, and founded their own businesses. 
The website offers an opportunity to explore faculty and student interests, highlighting the achievements of our department members.  It also provides insight into areas of interests, course offerings, and ways to get more involved with the department.  We invite you to explore our website and email us with questions. 

Dr. Siobhan Brooks - Interim Chair, African American Studies
Professor of African American Studies
Affiliate Faculty of Sociology
California State University at Fullerton
657-278-3847

African American Studies Department mission Statement
The Department of African American Studies is an interdisciplinary intellectual community committed to advancing knowledge about black people in the United States, the Caribbean, Latin America, Europe, and Africa. The department strives to interrogate the historical meanings and dimensions of slavery, colonialism, resistance, and freedom, and to explore their implications for contemporary political, social, and cultural expressions of black identity. In addition to analyzing the impact of slavery and freedom on Black life in the Americas, we also examine the issues that continue to shape and define Black communities in the post-Civil Rights Era United States and the contemporary Africa diaspora, including: Black intra-racial dynamics, gender relations, marriage and family patterns, mixed raced identities, sexuality, expressive forms, and hip-hop culture.
Is African American Studies Right for You?
As a student majoring in African American Studies at CSU Fullerton, you will be exposed to the history, politics, culture and contemporary social realities of African-descended people within the United States and globally. You will work alongside our award-winning faculty as you develop skills in writing, critical thinking, community building, and prepare for further graduate study and/or a variety of professional opportunities.
What can I do with a degree in African American Studies?
Students who major or minor in African American Studies will receive a well-rounded, interdisciplinary education and go on the have successful careers in a variety of professions. The degree prepares it alumni for both graduate study, and careers in a variety of professional fields such as education, law, business, social work, and more.
Learn More about a degree in African American Studies?
We encourage you to learn more, and find out if a Major or Minor in African American Studies is right for you! Explore our website or call to speak to an advisor who can answer all of your questions, and help lead you down the right path.
Notable African American Studies majors
As this list of notable African American Studies majors demonstrates, students who major or minor in African American Studies go on to have successful careers in a variety of professions.
To learn more about the field of African American Studies, explore these African American Studies professional associations: