HSS News Flash!

Cycling to Learn: Study Abroad Denmark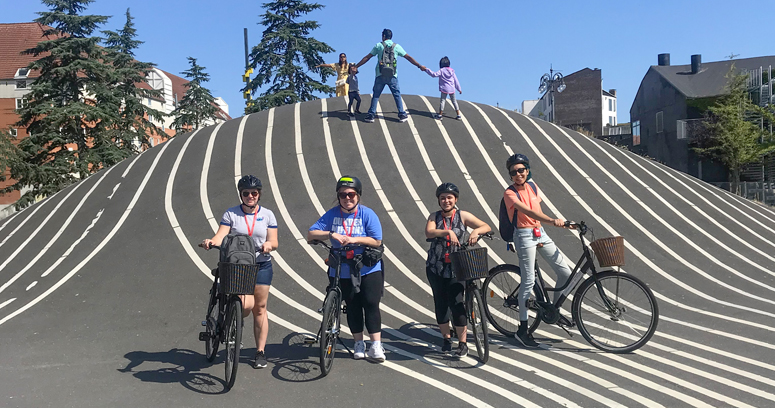 Dr. Carrie M. Lane and a group of CSUF students cycled around Norrebro, Copenhagen, during an H&SS Study Abroad trip to Denmark last summer. Norrebro is one of Copenhagen's most ethnically diverse neighborhoods, home to most of the city's newest immigrants. On the tour, students learned about urban planning and policy strategies Denmark is using--with varying levels of success-- to manage its increasingly diverse population. Students experienced firsthand what it's like to travel by bike in a city increasingly built for bicycles, rather than automobiles.
Copenhagen is an especially great destination for tourists and Study Abroad students because it is easy to navigate by bike (or on public transportation. The Danish people go to great lengths to keep their city accessible, environmentally sound, and user-friendly for families, professionals, and tourists alike. As students learned on the tour, good livable cities don't just happen--they are the product of collective, ongoing efforts to build and maintain spaces in which people can thrive.
Grace Johnson, American Studies major, Sociology minor and Study Abroad participant, commented, "It was rewarding to see Copenhagen while partaking in its prevalent biking culture. In Copenhagen, people rely on their bikes for transportation, since bikes outnumber cars. The non-smoggy streets are filled with cyclists. The use of bikes has allowed individuals to engage in a healthy lifestyle while being environmentally conscious."
In addition to their time spent biking and walking around the city, students also conducted service-learning with FoodSharing Copenhagen (https://foodsharingcph.org/), a non-profit organization that redistributes surplus food to eliminate food waste, students helped collect, organize, and distribute food. Students' service-learning activities, which were funded by the CSUF Center for Internships and Community and Engagement, were part of the Study Abroad program's broader focus on understanding diversity in Denmark.
Through assigned readings and class outings, students learned about different forms of diversity within Danish culture, including gender, class, race, national origin, and sexuality. The students learned to push beyond stereotypes of Denmark as an ethnically and culturally homogeneous nation to arrive at a more nuanced understanding of the country's strengths as well as the challenges it faces. "Most Americans' ideas about Denmark, about any other country, in fact, tend to be partial or even downright mistaken. I wanted students to see that Danes are not all tall, white, Nordic individuals, that Denmark is, in fact, home to a diverse population. I also wanted them to understand that learning about how other countries manage the challenges they face--economic, political, cultural, and environmental--can help us think better about our own country's future," says Lane.
"I recommend studying abroad to all students because it is a rewarding experience being immersed in and learning about a whole new culture. Even if you have some hesitations about applying to a program, I say go for it; there are people around who will answer any questions you may have. Coming into college, I never thought I would study abroad, but I decided to take a chance, and I am so grateful I did," advises Johnson
Carrie M. Lane, Ph.D., is a Professor of American Studies at CSUF. Her research concerns the changing nature of work in the contemporary U.S. She teaches courses on work, women, community, disability, ethnographic research, and the theories and methods of American studies.
Find out more about Study Abroad