HSS News Flash!
Meet Christine Gardiner, professor of criminal justice and a senior research fellow for the Police Foundation. Her fields of expertise include policing, crime policy and juvenile delinquency.
Titans of Talk! Moot Court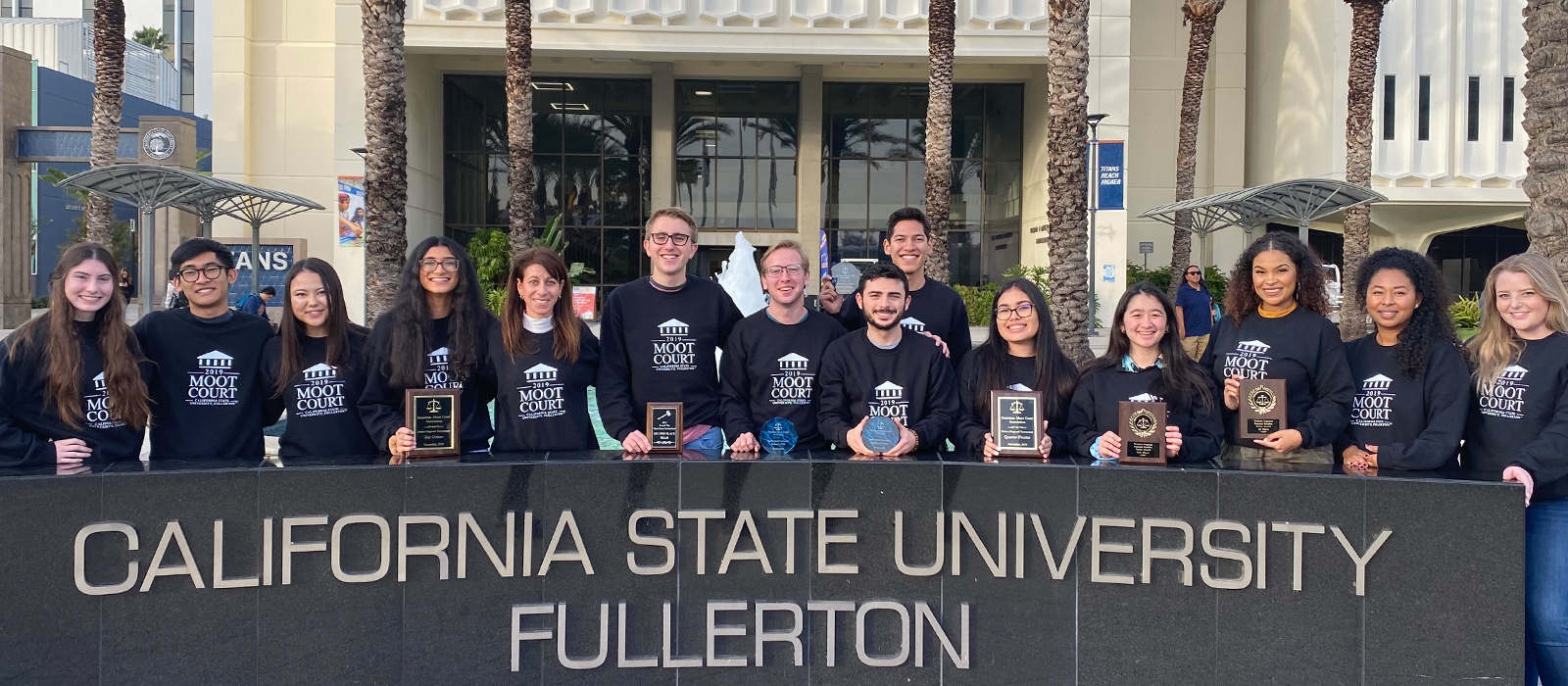 HSS Moot Court team finishes up year with some wonderful successes!
Moot court is a competition in which which participants take part in simulated court arbitration proceedings. Teams take a side, write briefs, and make oral arguments.
At the University of Chicago Tournament in October Cal State Fullerton's Moot Court Team brought 4 teams, and all advanced to elimination rounds.  We placed 2nd and 3rd with the team of Marisol Alvarez (Psych/CRJU and Ian Finely (POSC/Spanish) losing by one ballot to finish second and the team of Kristin Sinks (POSC/HIST) and Lauren Peterkin (POSC) losing in the semi-finals but again losing by one ballot.
At the Fresno Regional early November, Lauren Peterkin (POSC) earned best speaker and Jennifer Nakano (POSC) earned 5th, out of 76 students and moved our teams to elimination rounds. 
At the Eastern Regional later in November CSUF brought 4 teams, all 4 moved to elimination rounds and qualified 3 teams to nationals and earned 4 speaking awards including Ian Fisher (Music/HIST) Claire Jenkins (POSC/HIST) Kristin Sinks (POSC/HIST) Navdeep Sidhu (Business) - this regional had 60 teams (120 students), amazing results!
At the National Tournament in Baton Rouge at Southern University Law Center, 80 teams from across the United States competed from 474 teams that competed in regional tournaments.  125 written briefs were submitted for each side - Titans earned 3 brief writing awards including 5th place petitioner to Lauren Peterkin and Jennifer Nakano, 5th place respondent Marisol Alvarez & Ian Finley and 3rd place respondent Ian Fisher & Navdeep Sidhu! 
Marisol and Ian earned 5/6 ballots on day 1 allowing them to bypass the first round and entered 10th seed in the double octafinals, falling to U Chicago 1-2, and placing 20th overall.  Ian Finley earned 7th place speaker with over 387 average of 400 possible points out of 160 national competitors.