Events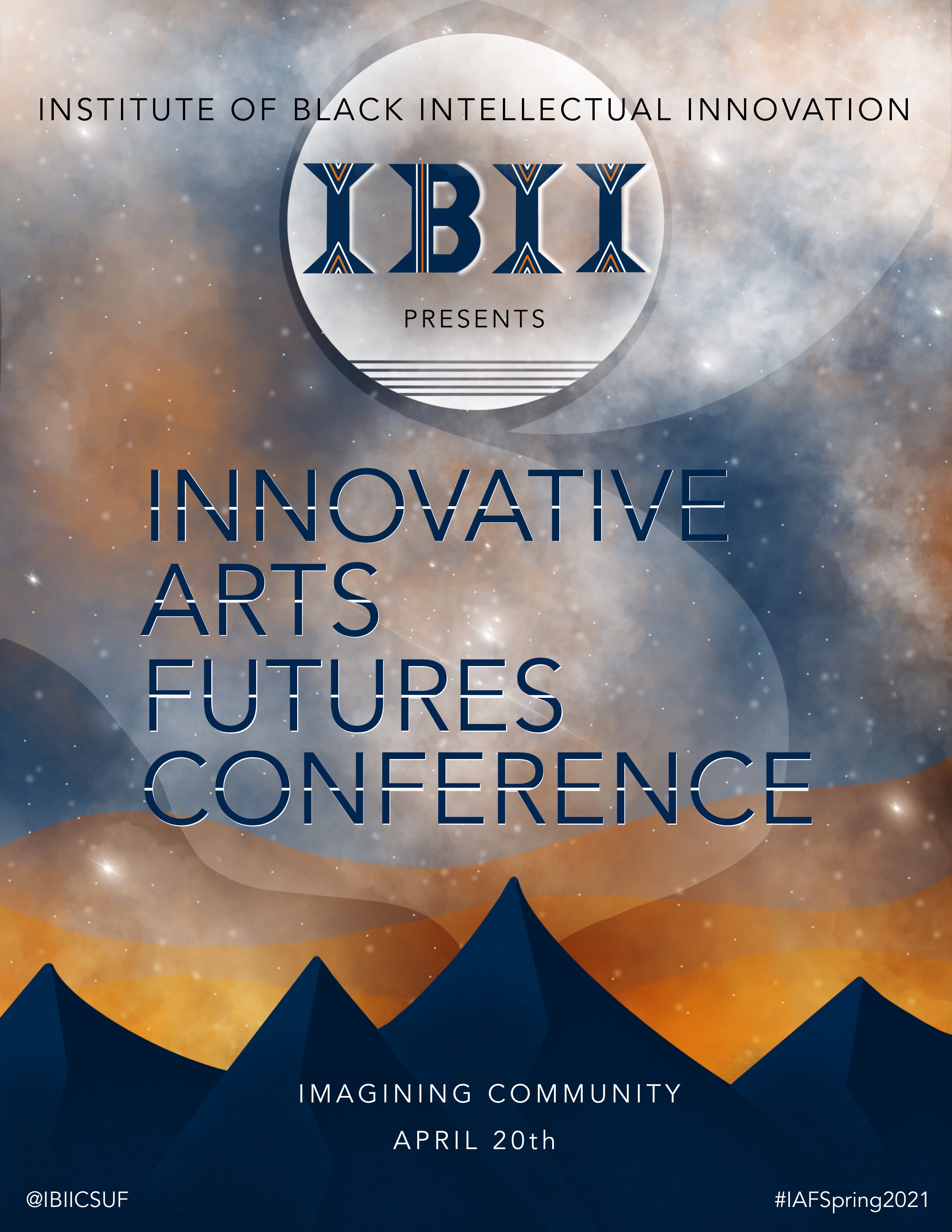 April 20, 2021 Innovative Arts Futures Conference
In the last year we have all learned innovative ways to come together, holding virtual space or coming together at a safe distance. We have seen our capacity grow to see each other, to value each other's differences, and to acknowledge enduring legacies of hurt and exclusion. The very fabric of our national institutions has been tested and questioned, as we realized how much farther we have to go before we find our way to meaningful conversations that will sustain our communities. IBII has endeavored to pursue that path towards community, conversation, collaboration, and elevation. Our Spring 2021 Innovative Arts Futures conference celebrates the eclectic "beloved" communities that we resolutely make together and their various, beautiful forms. Our nation, our family, our food, and our music create and recreate the interlocking weave that has always joined us together even in turbulent times. #ImaginingCommunity #IAFSpring2021 #IBIICSUF
Join us at: Zoom ID  938 1201 3597
11:00 Welcome, opening Remarks
11:30-12:45 Performing Black Citizenship (Panel #1) 
This panel features students, alumni, and faculty using dramatic collage as a mode of interweaving creative and critical interpretations of Black Citizenship in the U.S.  
1:00-2:15 Parenting for Peace and Possibility: Black Children, Wellness, and Joy (Panel #2)
This workshop is for Black parents and for students and community members who want to be advocates, accomplices, and allies of Black parents as they navigate the threat of racial violence and systemic marginalization in Orange county and beyond.
2:30-3:45 Writing Family, Writing Community: Poetry Workshop and Reading (Panel #3)
This innovative poetry reading and workshop invites participants to write family in real time as they consider the multiple meanings of voice, family and community in this engaging and inspiring session.
4:00-5:15 Black and Green: Seeds, Recipes, and Food Culture from the African Diaspora (Panel #4)
This panel features a live and interactive cooking demonstration with gourmet, plant-based Chef Korby and discussion of Afro-Latinx and traditions of sensing, taste, and gardens. 
6-7:15 Innovating Sounds: Sonic Resistance and Ray Charles (Panel #5)
This panel begins by inviting participants to explore sonic arts as Black liberation and wellness practice. This exploration of identity and musical innovation continues as other panelists explore the enduring legacy Ray Charles as a technical innovator and a musical icon. 
7:15 Closing Remarks


---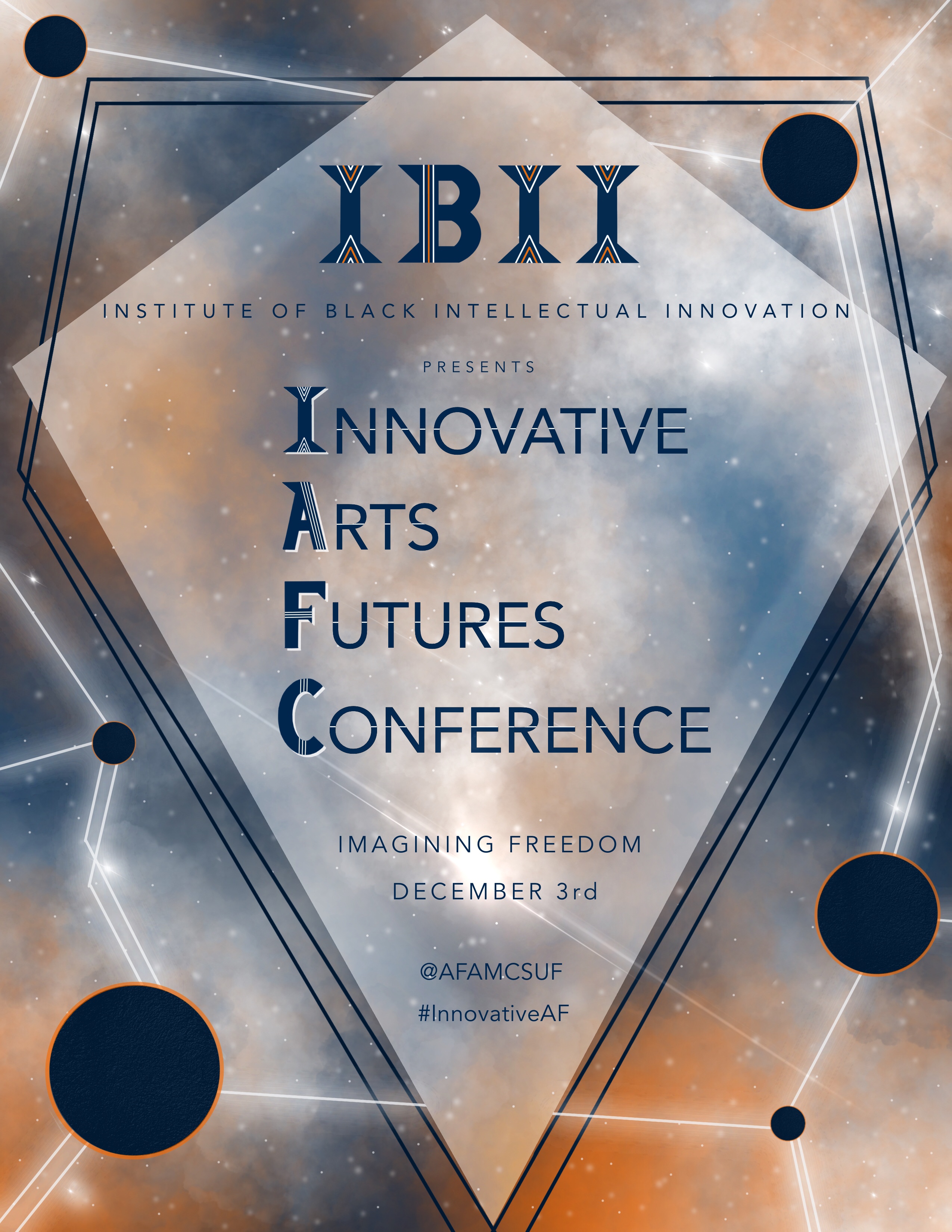 IBII's first event! Innovative Art Futures Conference
December 3, 2020



Featured:
I, Too Photo Gallery photography slideshow presentations with options for participant response 
Go Ahead in the Rain Reading and Remixes
Hanif Abdurraqib will read from and discuss Go Ahead In The Rain: Notes To A Tribe Called Quest, a New York Times Bestseller and finalist for the Kirkus Prize. Students in Hip Hop Culture will read essays written in response to the book. 
Modes of Black Masculinity
Natalie Graham & Keya Vance I, Too Photo Gallery, Slideshow and discussion
Jerome D, acclaimed music video director of who has worked with artists NE-YO, Kendrick Lamar, Common, and many others.
Innovative Black Poets: A reading featuring, ENG 306 students and 
Ashaki Jackson
Nandi Comer
Keith Wilson  
Joy Priest
Phillip B. Williams  
Luther Hughes  
T'ai Freedom Ford
Rio Cortez
Tommye Blount
Nabila Lovelace
Re-Writing Narratives of Incarceration
Terri Atlas, participant in Visiting Hours in the Shadow project
Jarrett Harper, criminal justice reform advocate
Natashia Deón, Redemption as a model for Justice, NAACP Image Award Nominee and author of the critically-acclaimed novel, Grace and founder of REDEEMED, a non-profit that pairs professional writers with those who have been convicted of crimes.
Fantastic Futures Reading and Panel
Nisi Shawl author of the novel, Everfair, a finalist for the 2016 Nebula Award.
Sika Dagbovie-Mullins author of Crossing B(l)ack: Mixed Race Identity in Modern American Fiction and Culture  and co-editor of a forthcoming collection with Eric Berlatsky, Mixed-Race Superheroes