In Memoriam -- Dr. Edward L. Robinson, Jr.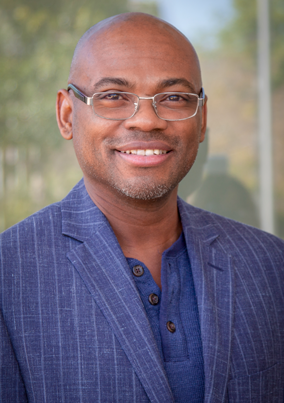 It is with deep and profound sadness that we regretfully inform the CSUF campus community of the passing of Dr. Edward L. Robinson, Jr., who served as lecturer faculty in the African American Studies Department in the College of Humanities and Social Science since 2011. Edward was born in Florida and raised in Georgia, where he attended Georgia State University earning a BA degree in history and sociology. He continued his education at the University of Utah earning a MA in American Studies and obtaining his Ph.D. in Cultural Studies, with a specialization in African American Literature and Media Studies from Claremont Graduate University in 2011. 
Edward taught several courses for the African American Studies Department including Black Men in America, History of Racism, Black Political Thought, Black Music Appreciation, and Black Performance Arts, The Black Athlete, and Black Families in America. 
He was a dedicated teacher who transformed the lives of his students in and outside of Cal State Fullerton. Dr. Robinson has supported many students in careers after graduating from the African American Studies Department, such as grad school and educational fields. His intersectional teaching approach on subjects such as race, sexuality, gender, and social justice made students feel safe and intellectual challenged in his classes. 
Dr. Robinson supported various department activities including Black History Month's Martin Luther King Day, events hosted from the Institute for Black Intellectual Innovation, and the African American Resource Center. In 2019 Edward was a keynote speaker for Black History Month. 
Edward was an innovative scholar who was working on a book proposal entitled, Indignant Dignity: Black Lives Matter in Early Black Writing, under review with the University of North Carolina Press. He published in the Journal of Healthcare, Science and the Humanities, International Journal for Scholarship of Teaching and Learning, and an edited volume of Anywhere but Here: Black Intellectuals.
Dr. Edward Robinson was a treasure not only in the department but also, to Cal State Fullerton at large; his service and dedication to students and colleagues is irreplaceable. To say he will be missed does not do his sudden departure justice. His laughter and smile could brighten any room. Edward will live on in the hearts of all of those who he touched. He was family; he was our family.
The Department of African American Studies 
Video and Publication Links:

Temperature Rising: Chapter 2 The Root of Racism